I finished one of my Boppy covers and love it. I actually sewed in a zipper. I am so proud of myself and was scared out of my mind to do it. This was such an easy, fast project. Now that I have the hang of it, it shouldn't take long at long to make more (because they are fun and happy!). My high school friend Stacey, with It's Fun to Craft, would also be proud of me for washing my fabric ahead of time to prevent shrinkage later on. She wrote up a tip about washing it and I've heard how that should be done anyway, and I have never done it. Don't know why. I actually really liked the feel of the fabric after it was washed so I am converted now.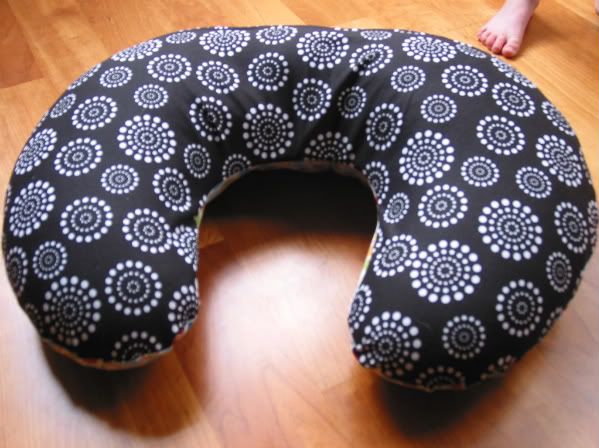 Anyway, the zipper was fun, let me tell ya. I honestly didn't even know what to do when I got to the part I had to sew over the zipper. I went for it and got my needle stuck in between the teeth! It broke the needle and bent it. Easy to replace, so I thought. I thought that I had it all the way in place but realized that I didn't. I took it back out and the needle slipped down a teeny, tiny hole in my sewing machine. I had to take apart the entire bobbin area to find it. It is kind of a good thing that I did because there was so much thread fluff down there that needed to be cleaned anyway. So after that fiasco, I googled sewing in zippers and learned alot. It looks really good for my first attempt and can't wait to do the other one.


Gunnar also thinks that him and the baby can share the pillow. He will lay on one side and the baby on the other. Hate to burst his bubble, but not everything will always be his.