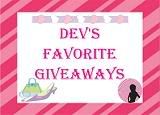 Everybody loves a giveaway right? Well I do and I know Heidi does (she has been winning many things). Anyway, I was contacted by Dev from
Dev's Favorite Giveaways
on Etsy and decided why not. I had an advent calendar left over from last year that was not selling and decided to send that to her and participate. It is fun to be a part of it. What do I have to lose. Not much. The best part is that her site has a medium range of followers so your odds of winning are great.
I am offering up an Advent Calendar Kit to the winner from
my Etsy shop
. Just do one or all of the things to enter on Dev's blog and wait for the results around Christmas. The best part is that there is no cost to you. Shipping is on me as well. Head on over and enter and read her great review about my shop.