This day we decided to head up to Mammoth Hot Springs. Jeff said it had to be a cool place with the word Mammoth in it. I really didn't care to go and I will tell you why. There was on little section of road closed off in the park. It was the one section that would make this trip way shorter. It would only be 49 miles if this road were open. Because it was not, the trip was 117 miles and this was all just one way. Regardless, we all set out. I insisted on driving this time to pass the time. The biggest thing for Ren was that he wanted to see a bear in the park. He really wanted to see a bear. They are hard to spot and not sited a lot. As we were approaching the Continental Divide, Jeff yells out that he thought he spotted a bear. Yeah right but okay, we head up a little way, turn around, look off to the side and sure enough there is a bear. So I go down a little turn around and we stop. Nothing new about stopping anywhere on the road in the park. But I really didn't like stopping in the middle of the road, on a hill and slightly around a corner. If someone was going really fast and not paying attention, we would get rear ended. Jeff was in charge of pictures. We know he isn't the best but I was so worried about getting hit. Thankfully the next car slowed behind up wondering what was going on until they too spotted the bear. It was funny to watch. They whipped out so many cameras. They were freaking out. Anyway, the bear was headed down the mountain straight to us. It eventually crossed between our car and the other car and crossed the road and dissappeared. The guy in the other car was so stupid. He jumped out of his car and peered over the guardrail. That bear could be right there. He must have dissappeared quickly because the guy returned to his car. It was exciting and Jeff and Gunnar both were thrilled.


His pictures seriously make me laugh! His big moment in Yellowstone and this is what he got.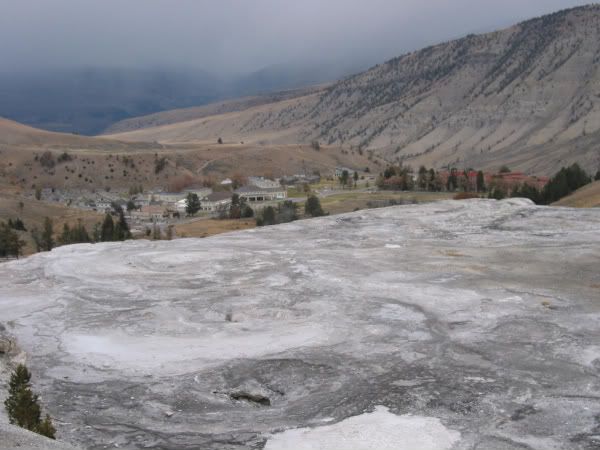 We finally made it to Mammoth Hot Springs. This is the town looking down from the Terraces. The park headquarters are here. They have a post office and medical clinic as well as a hotel and store. This is where a lot of the park workers stay. The funny thing is that the entire town was covered with elk. They were everywher and so close.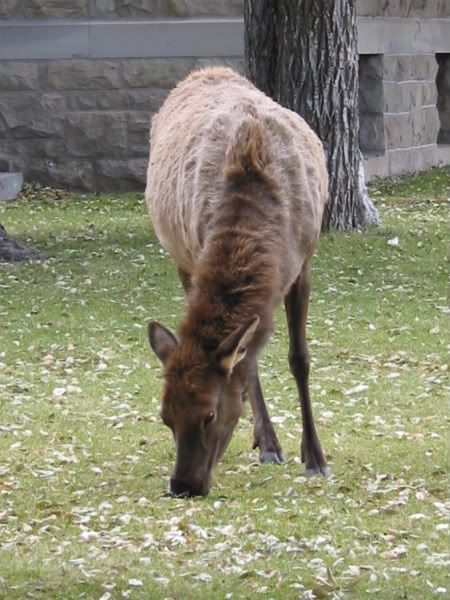 After the drive, we were all so hungry. It was discovered that all resteraunts were shut down. Just about everything in the park at shut down. Old Faithful a couple of days back was pretty much a ghost town.
Anyway, we had to head another 5 miles outside of the north entrance to Gardiner for lunch. Interesting little town, however the original entrance was there. So cool.


We then headed for the terraces. There were some really interesting textures up there. All of it was fungi or something like that. Really interesting.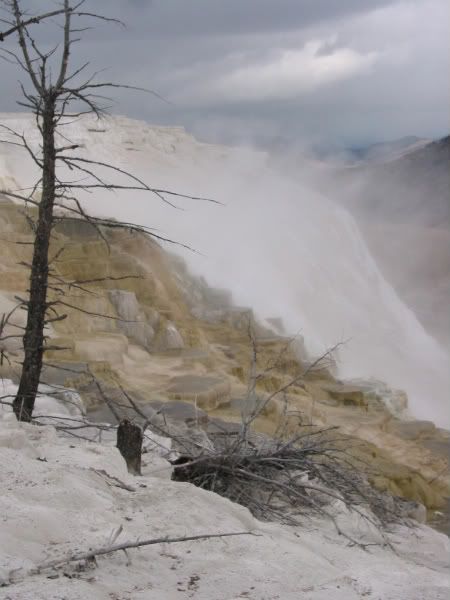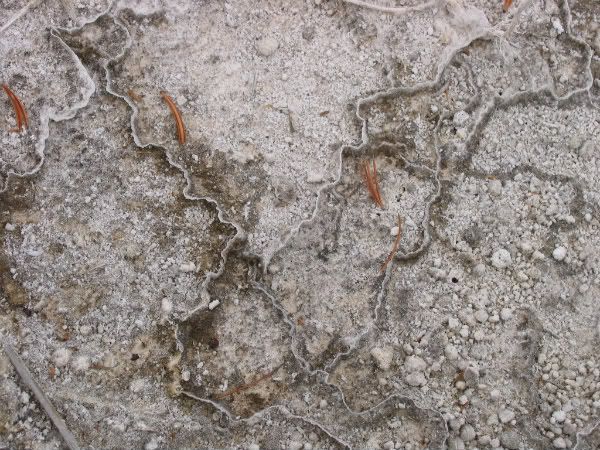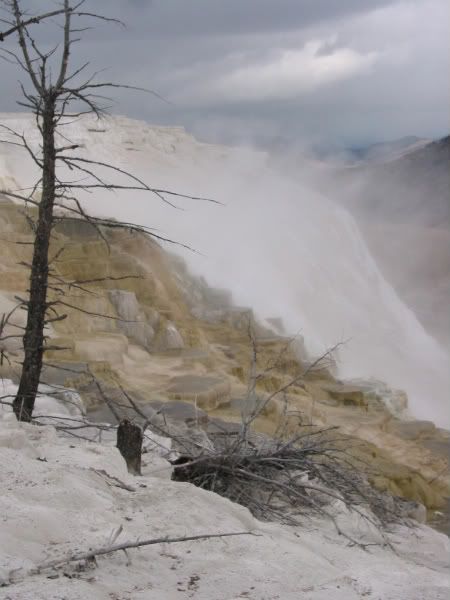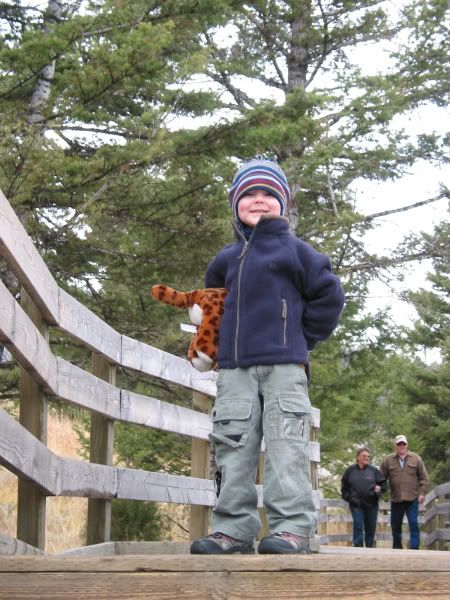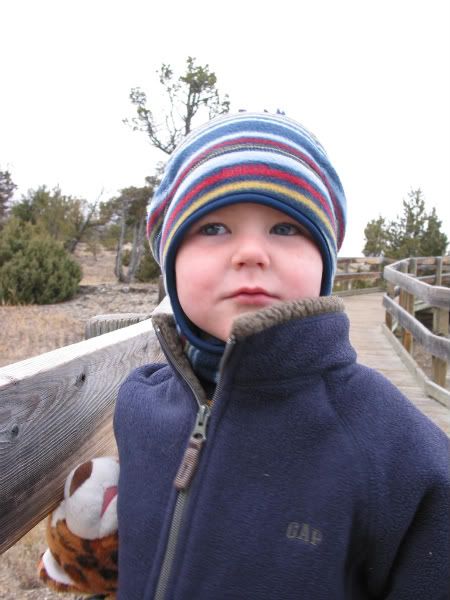 It was cold but really neat to see. We then needed to head back before it got to late.I didn't really like the idea of driving in the dark with wild animals all over. I really didn't want to hit one. On the way back, we stopped at the Upper Falls again.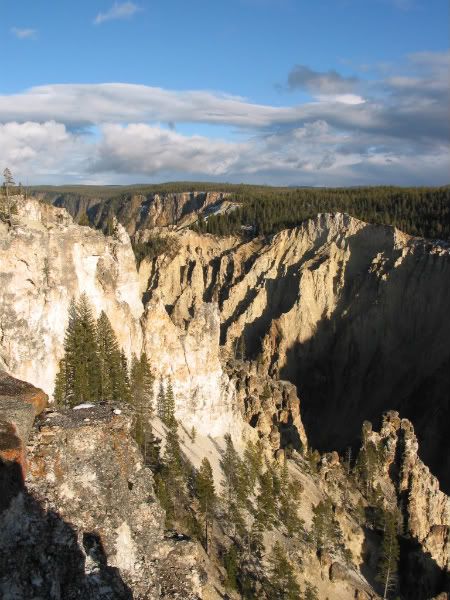 This is probably why the park got its name. The rock was so golden and pretty. This huge canyon was so pretty.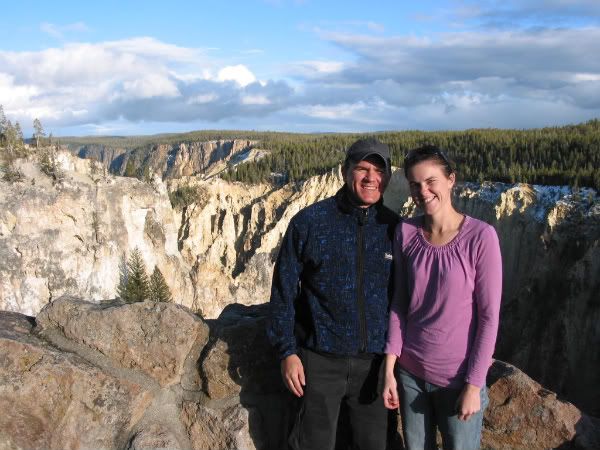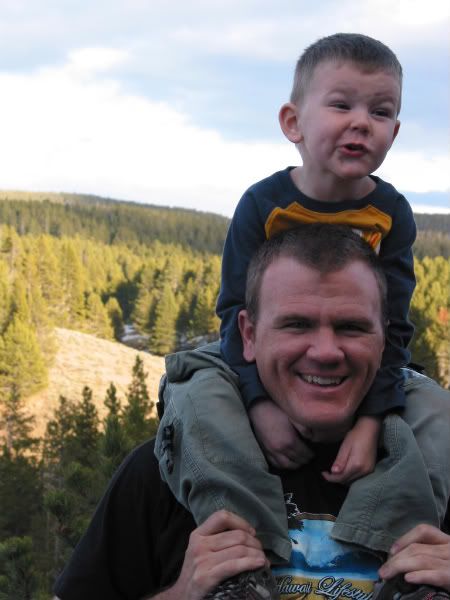 I love that goofy kid.


On the way, we spotted white swans. They were on Gunnar's paper and we were excited.


My parent's car was behind us and they got stuck in a bison traffic jam. I was so bummed we missed it. We've been seeing bison since the first day and I can watch them all day long if I could. I gained a new respect for these animals. They are massive and strong and beautiful. Ren was able to get these shots in the traffic jam. This particular area was a valley feeled with herds of these guys. Really neat to see.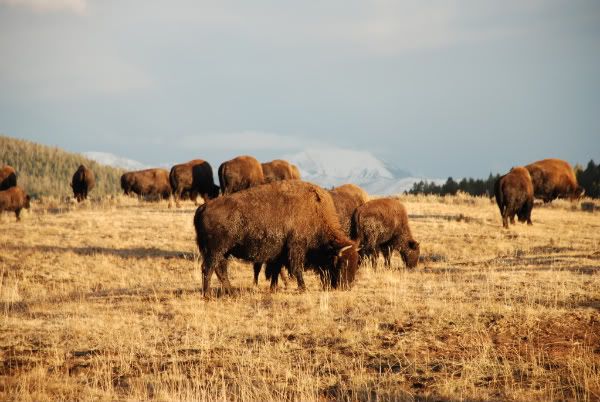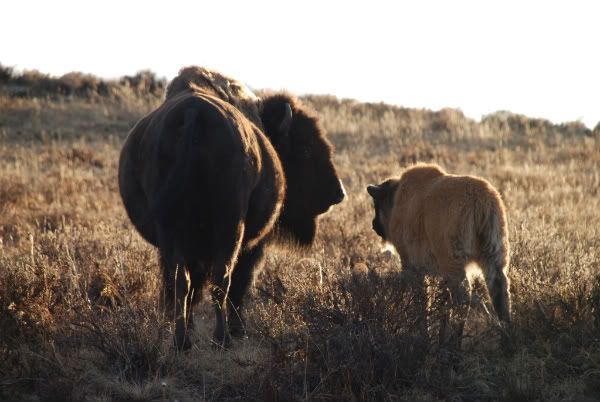 Is this picture sweet or what. A momma and her baby. One of my all time favorites!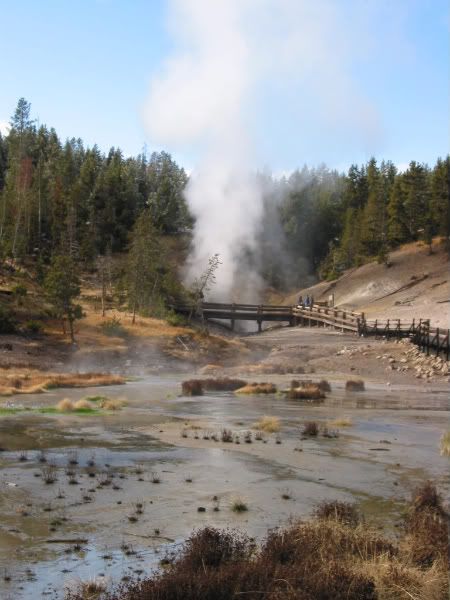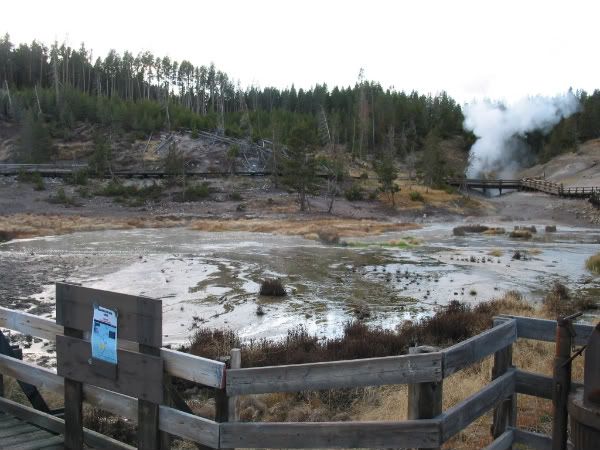 We then landed upon the Mud Volcanoes. Throughout the week we have been debating on whether to stop. I am glad that we did curtesy of a bathroom break. Dragons Mouth was a big hit. It was an area where steam built up inside of this little cave and then released it as if a dragon would. Water and steam came rushing out. It was so neat and loud. The noise was so eery.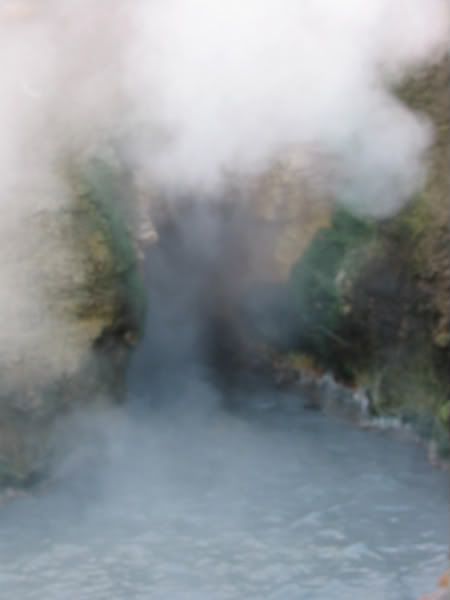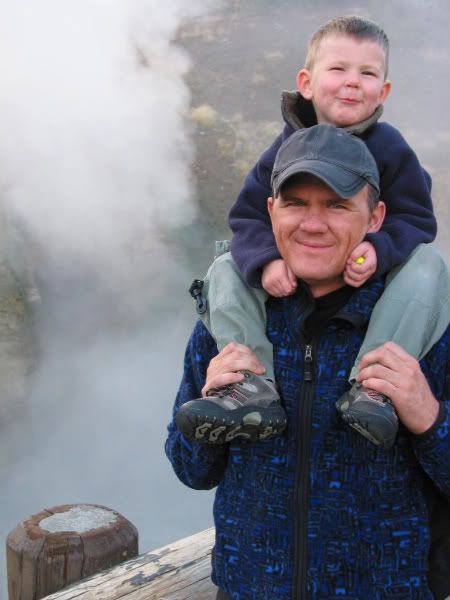 The place was all about mud and smell. It stunk so bad!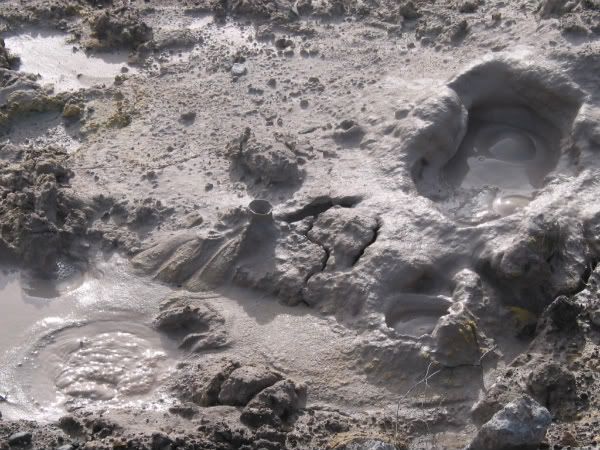 We needed to keep going but we had to stop at the Continental Divide signs. This is the highest point in the park.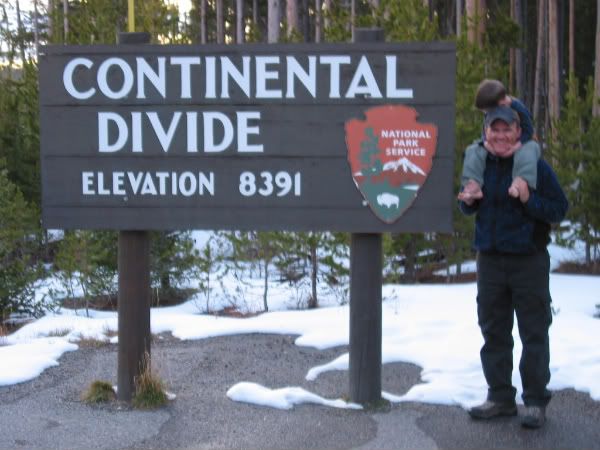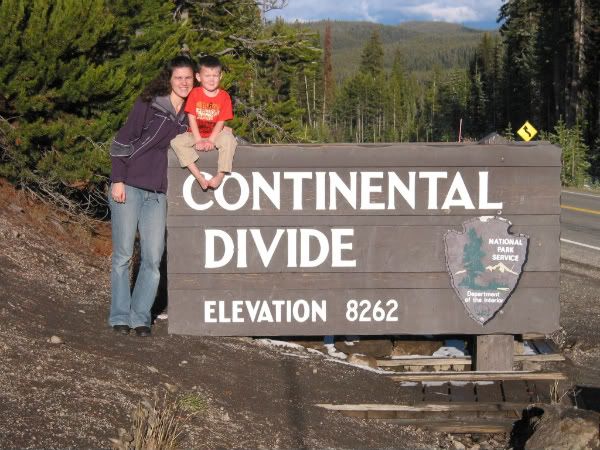 Yellowstone Lake was also really pretty when we drove past. It was really neat to see all of the hot spots on the out edges of it.


A bunch of cars were stopped so we decided to. This is what they saw in the distance.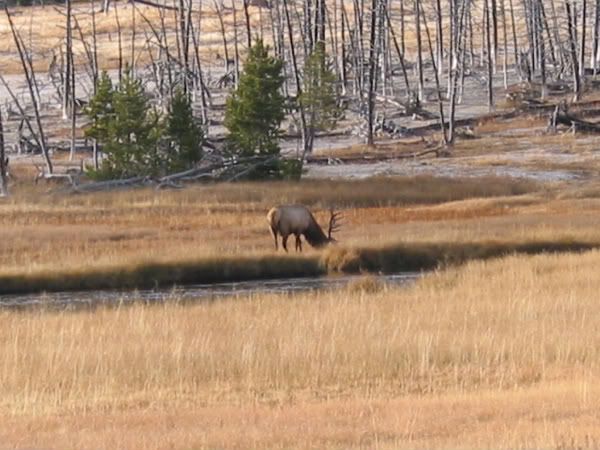 Every hunters dream. Thankfully he was off limits and happy as can be.
One of my very favorite things other than the bison were the fountain geysers. They are amazing and everywhere and I could also watch these all day long.


This concludes our Yellowstone trip. The following day we hung around town and finished up getting things we wanted. Saturday we made a beeline towards home. We were ready to be there. We had such a great time. I loved it. I hope to make it back someday.