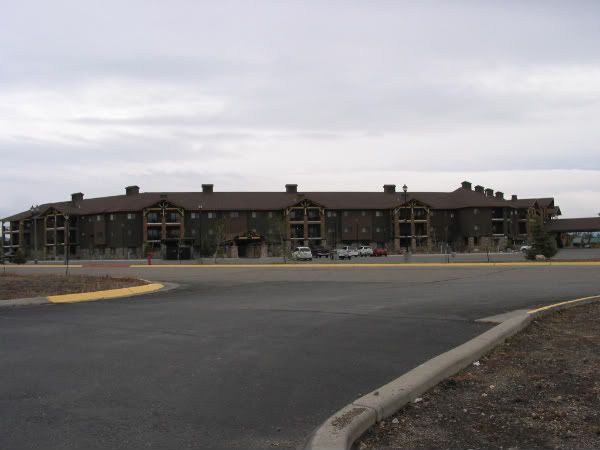 Late the first night we finally arrived at the resort. It was dark and super rainy. Really rainy. We were tired and ready to be there. We've been to several of these but this one was massive. It was huge. This is just one side. There is an identical side on the back.

The next day we were rested and ready to get into Yellowstone. Our first stop was no where in particular. Just drive until we found something to stop for. We saw a bunch of elk right inside of the entrance. Gunnar was thrilled because the ranger at the entrance gave him this animal identification paper. He was determined to find them. Fountain Paint Pots were next. As a kid, I remember these super stinky things and I was excited to see them again. They are really neat. It was really cold so they were sending off a lot of steam but they were still neat. In the parking lot, a coyote hung out waiting for the dumb visitors who fed it. You just don't do that to wild animals. That is how someone ends up getting hurt. We then headed to Old Faithful. I wasn't sure what to expect. Boy did we time it right. We parked, found a little spot to sit and then a few minutes it went off. It was sooooo cold and the geyser wasn't that high. A little dissappointing. I am just glad we didn't have to sit long like my parents and Ren had to. We then traveled up to Lower and Upper Falls. Now that I look at the map for reference, that was way up there. Almost to the northern part of the park. It was really snowy up there. First sight of snow for us for the season. It was kind of fun. On the way back, almost near the west entrance, Gunnar and I saw a bald eagle swoop into the water for a fish. It was the absolute coolest thing and Gunnar talked about it the entire trip.

The next day we took it way easy. We were tired and the forecast in the park predicted snow and we didn't want to deal with that. our first day the stretch of road past Old Faithful was closed but opened that morning, so we quickly learned that weather was unpredictable this time of year.
We decided to take Gunnar to the Grizzly & Wolf Discovery Center. It house the animals that can't be released into the wild for one reason or another. Inside they had an interpretive center with real bears that were killed for one reason or another.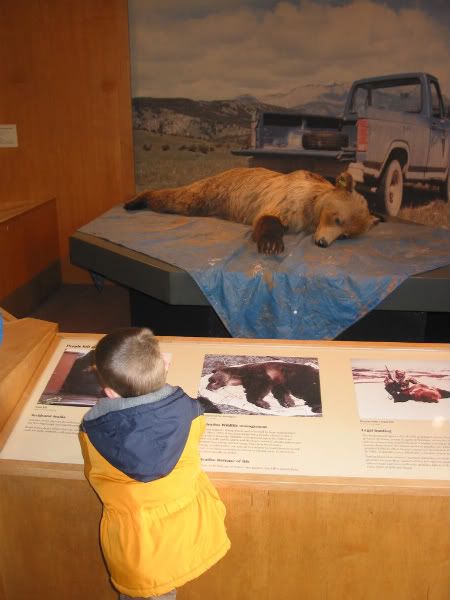 We then headed outside where the live bears and wolves were. The worker would hide food all over the exhibit and the bears had to search for it. It kepts them busy and entertained. Two bears were allowed out at a time. They are massive creatures. Very pretty.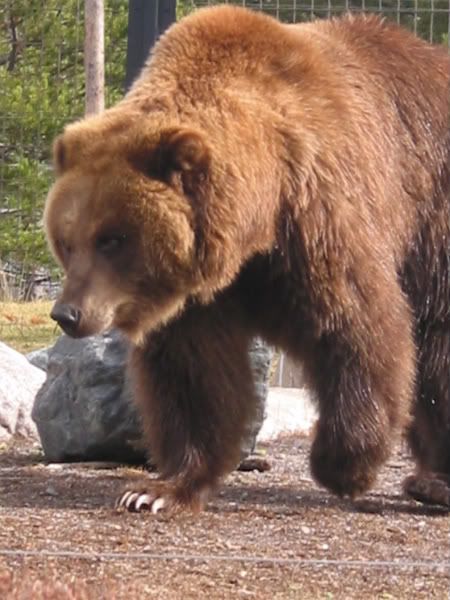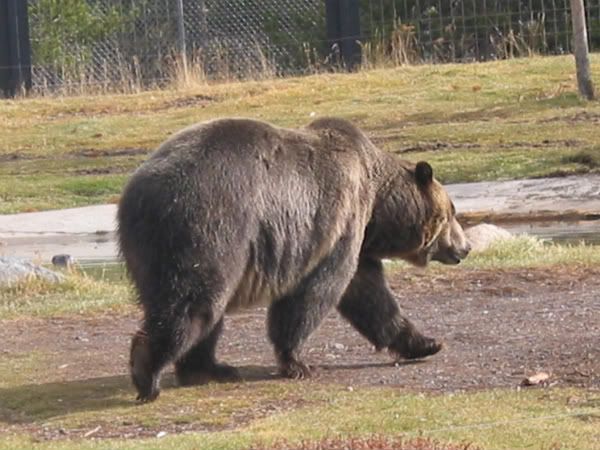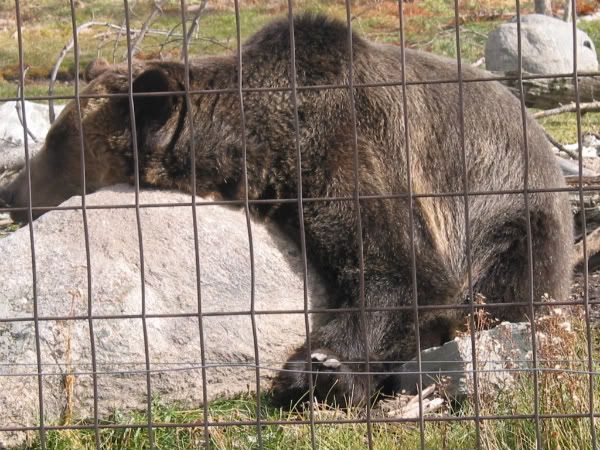 When the bears are done, they find a nice comfortable, warm place to rest.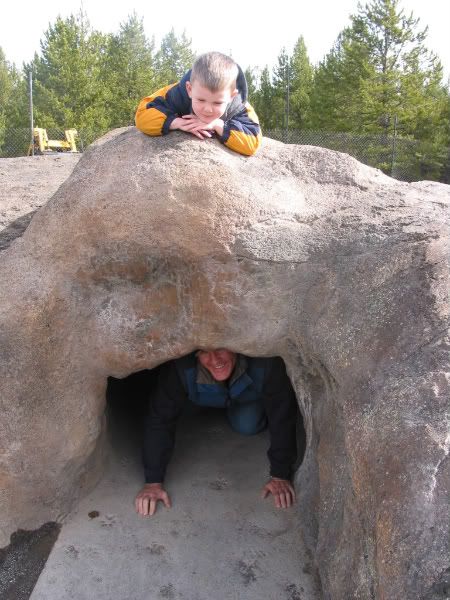 Is that a daddy and baby wolf near their den?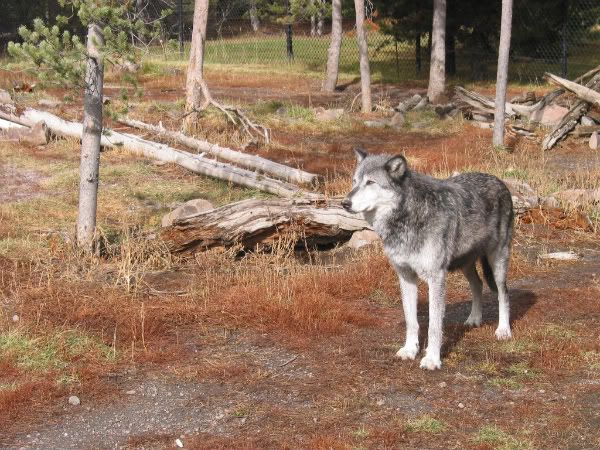 The wolves were gorgeous. I could have sat there all day long and watched them for whatever reason. They were quite interesting. They have two different packs at this center.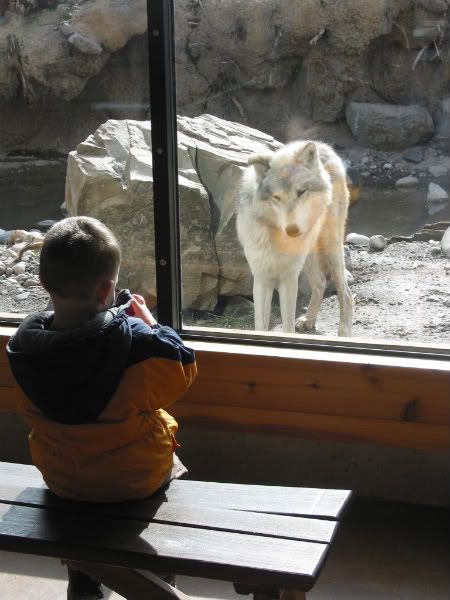 This one was very interested in Gunnar. Several times it would come up to the glass and stare back at him. There is something neat about a wild animal on the other side, this close, checking on you.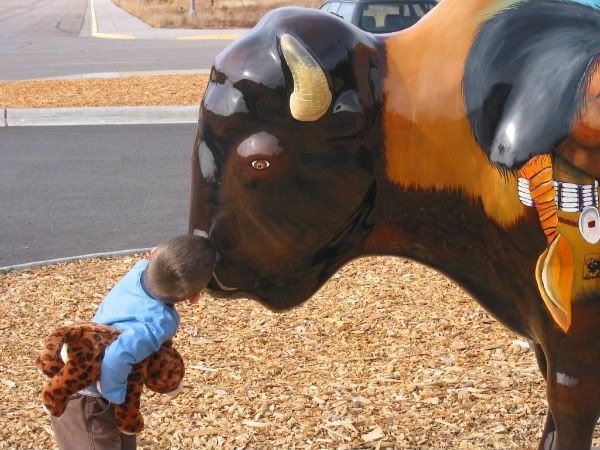 Outside of the center and all over town, there were these really neatly painted buffalo. The talent was amazing and Gunnar had to give this one a kiss.

After the center we headed into town to check it out. We had to stop at the candy store and were on the hunt for the perfect vacation christmas ornament for the tree. We always get one for our vacations. After 9 years of marriage, it was really fun to remember the memories through an ornament and we now have many.