With Gunnar, I did not have the freaky weird dreams. Nothing. Nada. A couple of nights ago, I had my first one ever and it was pretty funny. I remember picking up my small baby and calling her by the name of one of my friends that recently had a baby. Okay...not so weird. Then I turned her over (she was facing away from me) and she had these HUGE eyes.

When I woke up in the morning, the image looked familiar but I couldn't place it. I was first thinking that it was some sort of exotic animal that Gunnar and I must have seen on tv. Then in the middle of prayers before bed with Gunnar it hit me. This is what I saw on the baby. Remember, the eyes only.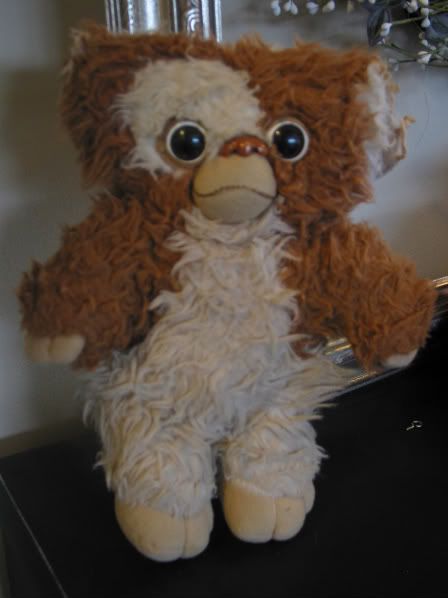 This creepy thing. Looking at it now makes me crack up. I hate this stuffed animal. Jeff has lugged this around since he was a child. It was apparently well loved. Rusty (our dog that passed away last year) completely chewed off Gizmos ears when he was a younger dog.

The night of the dream, I found this creepy thing on my bedside table. Gunnar traded me for something and left this in return. How nice. Jeff knows that I hate it and told me to watch out, it might appear where I least expect it. Well thanks, because it appeared as a creepy baby with a friend's child's name in my dreams.