I have more energy than I have in the last few months so I have been on a crafty high. There were so many things that I wanted to do and now with this new found energy, I am getting them done. Mindy says that I am nesting but that is so not the case quite yet anyways. It is energy.


I saw the idea online to frost windows/glass with frosted glass spray paint and a decorative piece of scrapbook paper and thought that it would be perfect on this door. It has always bothered Jeff that this window was so open. We could see where the previous owners had blinds or something hanging. I didn't want blinds, I liked the light coming through. In comes this frosted glass idea. I did it at night when Jeff was gone and the fumes were enough to kill an entire house full of people. Not the greatest. I found my scrapbook paper at Joann's on sale and used temporary spray adhesive to stick it on. It was really easy and fun to do. And if I decide that I don't like it later on, it is pretty easy to take off with stuff mentioned on the spray can. I plan on doing the glass door on our entertainment center but want to see if I can find a different design of paper that I like.


Rillz and Mindy went to church with us this last Sunday and stayed for dinner afterwards. Rillz birthday is actually today but we thought that it would be a perfect time to have a family party since they were already this way after dinner. I have always wanted a reusable, fabric birthday banner and thought what better time to work on it.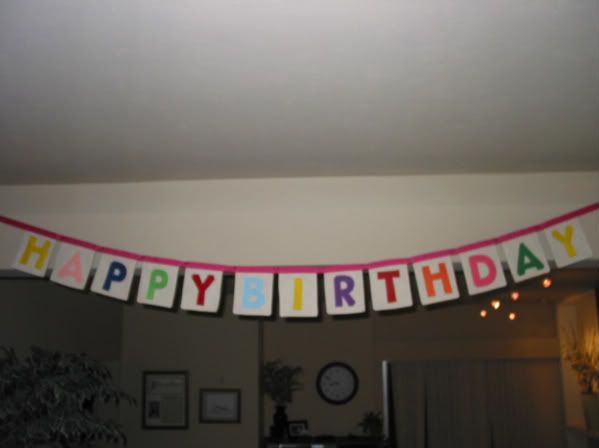 This picture was taken at night so it turned out really bad but you get the idea. The letters are made from felt. I cut them out from my Cricut as a pattern and traced backwards on the felt.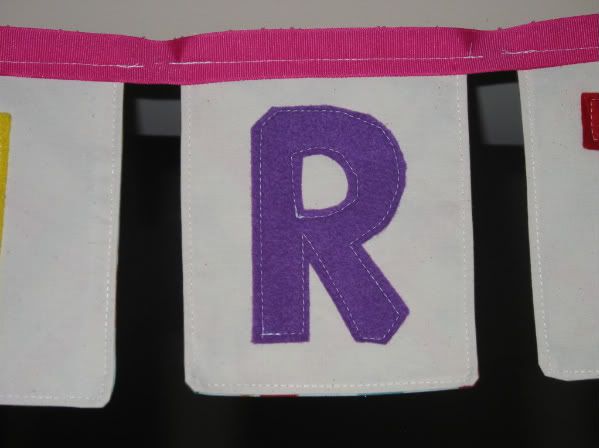 The backs are made from one of my favorite fabrics ever. It makes me happy every time I see it. I sewed it all together with ribbon. It was fun to see hanging in the dining room and everyone liked it. It essentially free because I was able to use stuff that I alreayd had. Great way to use up scraps of fabric.


While I was at it, I figured I would make a Valentine's Day one. These are all of the V-day decorations that I have so the banner definately adds to it.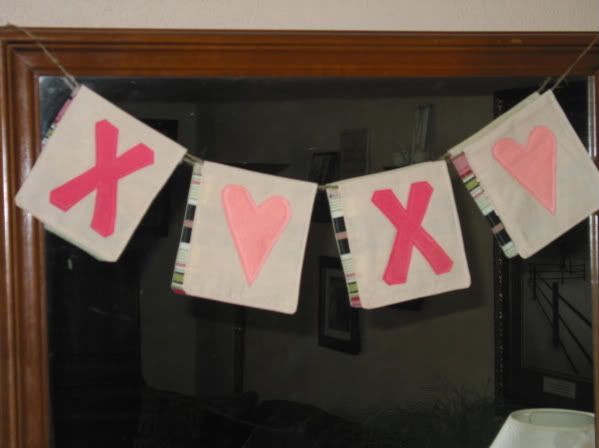 I love the fabric on the back of this one. The color combo is great. This took me no time at all to make. I decided to use twine to hold it all together. I folded the top over and held it in place with fabritac, the best stuff ever. If you have yet to try it, get a bottle with a coupon. I use it for fabric projects as well as scrapbook projects. It reminds me of hot glue but without the gun and hot part.

These are just 3 of my projects. I have 3 more that I did. I just need to take the pictures and get them on here. I plan on finally working on my neckplace holder for the bathroom. Hopefully I will get that started today. It desperately needs done.