I had my big ultrasound today and we found out that we are having a BOY! I was a little thrown off honestly because for some reason I really thought that it might be a girl. It wasn't really because I really, really wanted a girl, I just kept feeling that it would be a girl. I felt that Gunnar was a boy and so I thought that this baby would be a girl. Plus I really, really wanted to use my favorite girl name. These pictures are for Ren, my brother in law. I know how much he loves them! I am totally laughing at that. He hates them.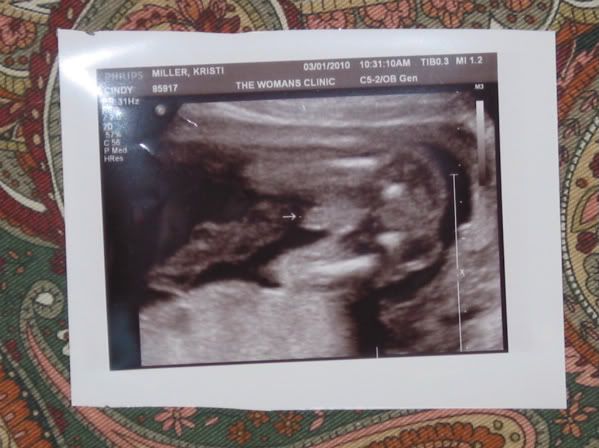 Yep, this baby is a boy. He is loud and proud over it. Gunnar was the same way. No questioning it here. Gunnar decided that he needed to go the bathroom in the middle of the ultrasound and he loudly announced that it was poop. Jeff left and the technician was getting to the part where we would find out. She asked me if we should wait. I told her that if she got a good shot of it, to go ahead and announce. I was not risking a change in baby and not leaving not knowing. She got a good shot and announced it. Gunnar and Jeff came back a few minutes later. Jeff has 4 brothers and Jeff's brother has two sons. The Miller blood apparently runs very strong with boys.


Baby was turned inwards for quite some time so towards the end, the technician was finally able to get the face when he turned. I agree, these pictures are kind of freaky looking, but hey, that's my baby. Boy are we stumped on names. We are way stumped on names. I had one, yes just ONE, that I liked and now I am not even sure that I am set on it. Jeff isn't really into it. Gunnar was Gunnar, the second after we found out he was a boy. No questions. This poor baby may not have a name a year after his birth, we are that stumped. Nothing really sounds great. I think we have a middle name set. We like Maunakea, which is Hawaiian and my dad's grandpa's middle name. We'll see if that sticks. As names pop up that we like, I'll mention them and you can weigh in. Anyway, everything looked good with him. He is healthy and that is all that matters right now.

I first called Heidi. We went couponing this morning at 7am together (I will have to post about that tomorrow because it was good) and wanted to call her first. I asked her what she thought and she said boy. She had a dream last night that it was a boy and she was right. Mindy was next. She's said boy for a long time because of a dream that she had about what kids all three of us sisters were going to have and she was right. Over time we'll see if Heidi and Mindy's kids come true becaue if it did, it would be crazy because it was in a dream and the situations for each of them were interesting. Anyway, my dad really thought it was a girl and says some really funny things about this baby being a boy. He is excited. My mom is also excited. After all, my family only knows boys so far. Brent and Noelle were also excited. I love my family so much! They are great extended family for my kids.


I was determined to make a day of this. Jeff took the entire day off. After the appointment, we headed to Quiznos for lunch. I had coupons, I love that place, and I have not been there in a really long time so that was our choice.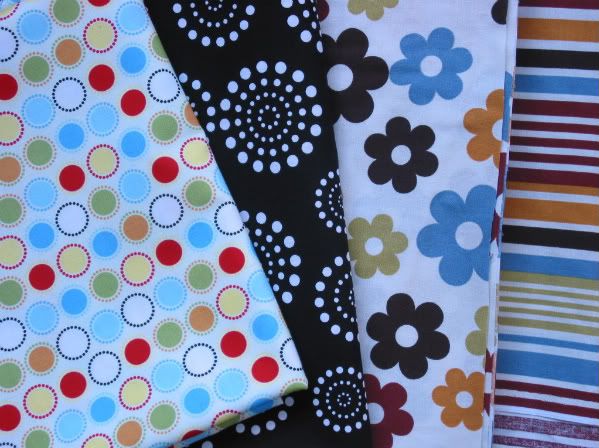 After lunch we headed to the new Hobby Lobby in town. I was determined to find fabric for Boppy pillow covers that I was going to make. I am really determined to sew different things and learn a few skills here and there when it comes to sewing. These looked easy enough and I really needed them. I found a Boppy when Gunnar was an older newborn for $1 at a thrift store but never used a cover. I'll have covers now. Anyway, the colorful dots will be the top of one and the black dots the back. The flowers of the other will be a top and stripes the bottom. I am excited to get started.

We then headed to Target to get a going home outfit for the little guy. About a month ago, I received and insanely thick Target type baby catalog for the store. In it was a fake gift card stating that if I created a registry and brought it in, I would get a $20 gift card. Well, heck, I can do that. I did it online, printed in the store and got my card. I've saved if for this very day.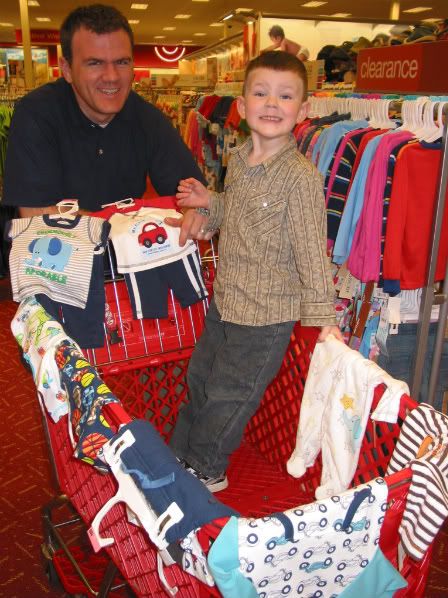 We had a lot of choices. We also had to remember that it was going to be July too. I really, really liked that little outfit with the blue elephant on it, but I was outnumbered.


We ended up with this really cute romper thingy with old looking motorcycles on it. The funny part was that it was on the clearance rack for a little under $5. I love a good deal and their Dwell line is really cute. We also picked up a summer romper. The best part about having another little boy is that we have everything...except for more summery clothes. We are off by one measly size. That's okay, yard sales are coming up just in time. I can't wait.

Gunnar was getting tired and bored in the car. Funny boy. He will be a great big brother.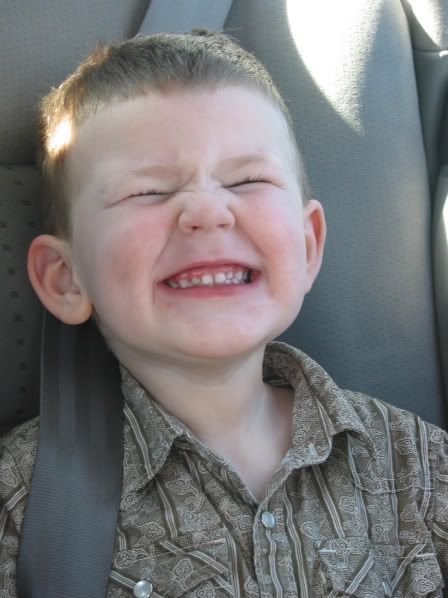 And to finish up this post and day, I needed to take a picture of myself. I am trying harder to document more of this stuff. If I took this picture on Saturday morning, I would hardly look pregnant. I went home after hula practice that day and read my weekly pregnant email update and I think the baby saw that it said 20 weeks and decided to look it. I now have a belly. At a hula performance that night, I looked big. One of my outfits will definately be retiring after a performance this weekend. It won't fit much after that. The shirt and sweater in this picture are my normal clothes but the jeans are not. They are maternity and I have been in them for a while now. They don't even fit me that well yet, but my normal jeans are definately out. These are also the only pair of maternity that fit remotely at all. I can't wait until I can fit into more better. This stage drives me nuts.


We are really excited about this little guy. Boys are my thing. They always have been so we can't wait for July to come around. I asked Gunnar the best part of the entire day and he said,"it was looking at your baby."