I have some of my projects done and a billion more to do. These projects were fun and really easy to do. I am also really bad at taking before pictures and in our house numbers sign I wish that I had remembered. The letters were so tarnished you could hardly see them from the street. I decided to take the plaque down and paint the letters Heirloom White and repaint the board black. It was a fast, easy projects and looks so much better hanging from the lamp post out front.


The next project that I did was make recycle bags for all of the things that we take to the recycling bins. We used a cheap laundry organizer that was driving me crazy. I wanted something function. Something that was easy to fill up, grab and go. I tried these really cute ones from World Market but ended up taking them back because they were just way, way too small. In the end, I decided to make my own. I had lots of muslin left from a project that never happened. I am so proud of these bags. I even made handles, added velcro tabs, and boxed the bottom corners. I seriously love these things. I also used the freezer paper technique to make the words on the front. Super easy. All that I did was printed off the recycle logo from the computer. I took the exacto knife and cut out the details. I then traced it onto freezer paper and cut it out. The cool thing is that when ironed, the freezer paper sticks to the fabric like a stencil. I then spray painted (you can use whatever type of paint) the design with green spray paint and then peeled the stencil right off. For the letters, I ran the freezer paper through my Cricut machine and saved the little insides of the letters and did the same thing. As you can tell the paper was much smaller around the edges and I oversprayed. To me it gives it that more urban, reduce, reuse, recycle feel to it.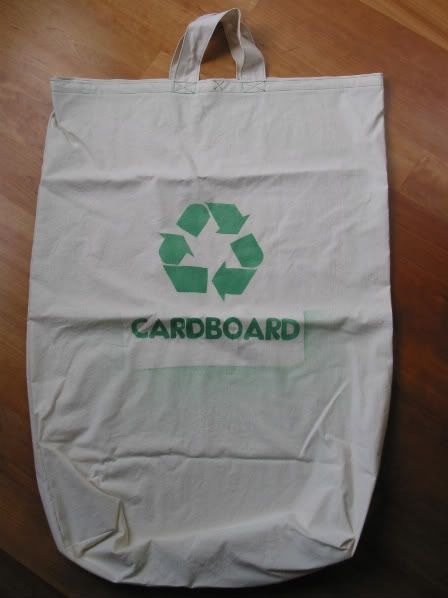 These bags are really big. I should have had Gunnar get in one for comparison. I meant to put newspaper instead of paper on the one but I forgot. We changed plans and will now store the newspaper in a rubbermaid underneath the bags anyway because of weight so it all works out. We will put other types of paper to recycle in this one instead.


Now this is the hideous now/before. I am currently in the process of painting this white. We plan on storing two rubbermaids on the bottom, one for newspaper, the other for aluminum/tin cans. We will then put a shelf above the rubbermaids to seperate the space but also support the bottom of the bags if they get heavy. Then on the back wall somewhere we will add a board for the hooks to hold the bags up. I am excited to see how it all comes together. This space was originally used for an upright freezer. We happened to have a chest freezer in the garage so it wasn't used for a while. This had been the perfect set up for recycling and our garbage can/cleaning stuff is stored in that closet to the right so it works.
Not only has recycling drasticall cut down on how much trash goes out each week, Gunnar also loves it and is totally into it. He always asked me if something needs to go into the cereal box area or the milk area. Our set up may be different if we have a city recycling program that picks up at the curb but we don't and have to take it to a close drop off point. We just love that we can help reduce waste that goes out from our house.


The next project that I completed was this pillow for Breckin's room. We are keeping it the Hawaiian feel but I wanted to add a couple of things to make it different from when Gunnar was in there. Apparently I can't make a pillow to fit a pillow form correctly. I think I get paranoid that it will be too small and end up compensating but really I don't care. I loved this fabric and when I first saw it I thought of ocean waves. I then added the surfboards with felt and glued them on with Fabritac (the best stuff in the world). The main pillowcase is the pocket style in the back. Oh ya, I also added the blue piping around the edge which I love. The more and more I do piping I really like it and am getting more comfortable with it.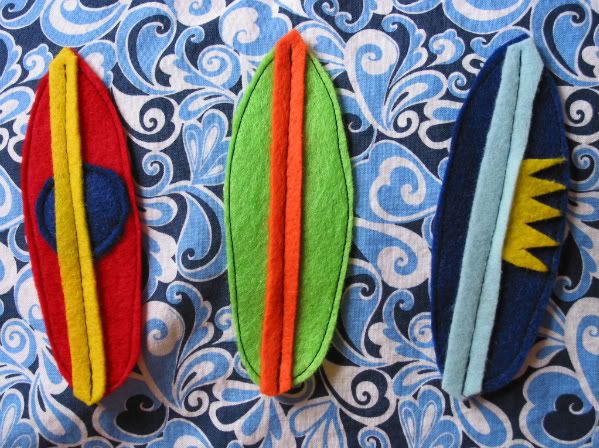 The last thing that I made was a Swiffer cover. I found this fun tutorial at Sew Much Ado and just had to make it. For our hardwood floors, I really just needed something that dusted them. The pads that come with the swiffer just didn't cut it. This tutorial looked easy enough and I had everything. She must have big feet or something because my sock would not stretch perfectly like hers but after way to much time spent on it and stretching as I sewed to get it right, my cover was done and I love it. I love that I can easy throw it in the wash and resuse it over and over again. It picks up so much stuff too. If I feel up to it someday, I may make another for a spare.


Off to finish painting the last of my interior doors. No this is not a nesting thing. I have to muster every ounce of determination to get up and put another coat on them. They do look super good though and with all of the new, matching door knobs on them, they look really good and cohesive now. No more mismatched knobs and ugly doors.