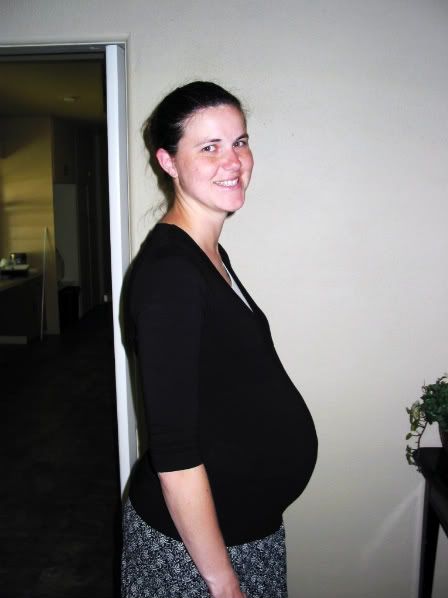 We are on the tail end of this thing called pregnancy. I've enjoyed it and know that I will miss feeling Breckin move around when he is finally born. Just the same when I had Gunnar. I will definately not miss the heartburn or the low, low baby which I didn't have with Gunnar at all. I will miss the funny things that Gunnar says in reference to the process. I won't miss him talking about him having a baby in his tummy even though I find it pretty funny. I will miss wearing clothes that actually fit me pretty well. I always seem to struggle more with my regular ones. Aren't people always ready to get rid of maternity clothes. I just really love the jeans that I invested a pretty penny in with Gunnar so that they fit well. I also feel great and small. I've never felt big. I've gained about 35 lbs which is perfectly normal. My hands and feet don't swell up but 70 and 80 degree weather in the summer definately helps out. I really lucked out there.

This baby is coming Friday no matter what. There have been times this last week where I over worked my self and I thought that this guy was just coming no matter what. But with good sleep at night and taking it easy each day, I am able to feel really good and move on. Like today, I feel rather good after a long painful day yesterday after a long fun day Saturday. I can't wait to sleep in my bed next to Jeff again. For the last week, I have been sleeping on the couch. I had heartburn so bad and always ended up there anyway, so now I just start there for the night. Plus the couch just molds around my body better making it far more comfortable to sleep with a belly. Soon I will be back in my own bed which should be nice, with a crying baby every couple of hours, with a husband that can sleep through anything and would say that the baby never woke up when really he did about a million times. Hmmm, this should be fun.

I am actually kind of anxious the closer this gets. Gunnar was an emergency c-section so I had no time to calculate all that was going on. Plus I didn't read up on c-sections prior so I had no knowledge as to what really happens. Now I know what to expect and it doesn't really scare me but I just know and my mind tends to go around and around with it all. Okay, so I didn't really read up on natural births either and was just going to wing it plus I was so sure that Gunnar was going to be born on his due date that having him one week early just threw me for a loop so I was so unprepared but I would have it no other way. I can be pretty white or black sometimes. I think the needle parts freak me out more than all the other stuff.

Anyway, we are ready, everything is in its place. I have my last doctors appointment tomorrow. I will actually miss those regular appointments too. Thursday I woke up from a nap deciding that I wanted a haircut. I called the place that Heidi, Mindy and Noelle get their hair done hoping for a Tuesday appointment while I was down in Boise. He couldn't do it so Thursday it is. Boy is that cutting it close and hopefully I can make it. I really want my hair cut. Really it should have been done a long time ago. We'll see what happens.

I am still struggling with the idea of having a 4th person in the house. It just seems so weird after 4 years with just 3 of us. We are ready for it and I can't wait to see how all of the adjustments go. The closer it gets, the naughtier Gunnar gets at times. I can tell that he senses this baby is coming soon. It will be fun to see what happens. Thankfully Jeff will be home for 2 weeks to help out. I am excited about that. Hopefully the next "pregnancy" post will be about a baby. Until then, I better take my nap while Jeff and Gunnar are out fishing for a while.