With less than a week of having a baby, I was determined to spend some time at the 4th of July festivities that we love to enjoy around Caldwell. I wasn't going to let a 9 mont pregnant belly stop me. I figured that I could at least make it to the parade and Jeff could take Gunnar to the park, but I felt so good. I lasted the entire day without a problem. It also helped that the weather was in the mid-high 70's the entire day. Since when was it ever that cool. In fact, it was a little chilly for the start of the parade at 10am. I wore jeans and a short sleeved shirt and never once felt really hot.


(Bridger-almost 2, Dylan almost 7, Gunnar-4, Adam-just turned 6, and Reece-almost 5)
Meeting Jeff's brother and his family at "the spot" has become a tradition for the last couple of years. It has the most easiest parking access to it, it is towards the start of the parade and we have never had a problem getting a spot staked out. We all just know where to go and it has been fun. Gunnar loves meeting up with his cousins and all of them are only a year or two apart making it fun. They all looked so cute on their little chairs. I was amazed at how much they worked together and shared when the candy was thrown. No fights here.


Gunnar loves Thomas the Train, so it was really fun to see him in the parade.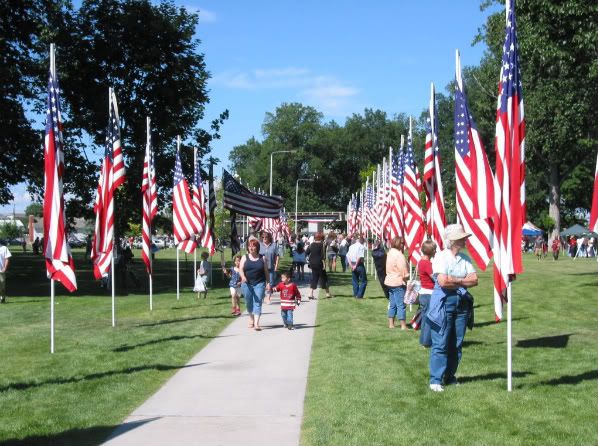 We headed to the park afterwards where they have a car show and lots of kids things set up. The first thing that we saw were all of these flags. They've never had this before and it looked so neat and there were so many of them. As we approached, we noticed that each one had a write up attached about each soldier from Idaho that was killed overseas. It was really touching and really interesting to read about some of the brave men and women that served our country.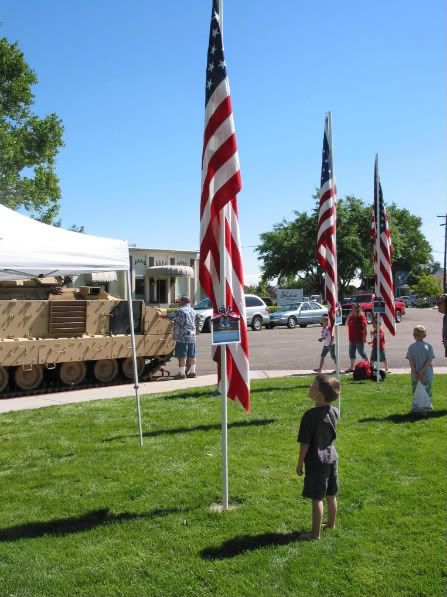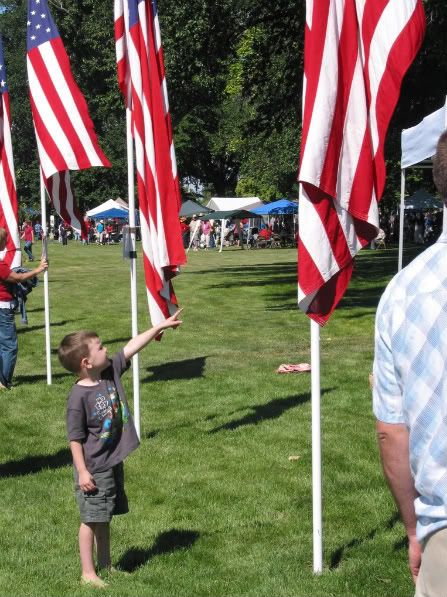 We also found the cutest petting zoo. Everything was miniature. Mindy and I were in heaven petting and looking at all of the cute animals. They had this really neat zebra that was smart and stayed in the middle of the pen so nobody could pet it. The zebra was neat in the fact that it was brown and white versus black and white. The brown stripes were also raised up above the white but that could have been from it shedding its winter coat. He was pretty neat.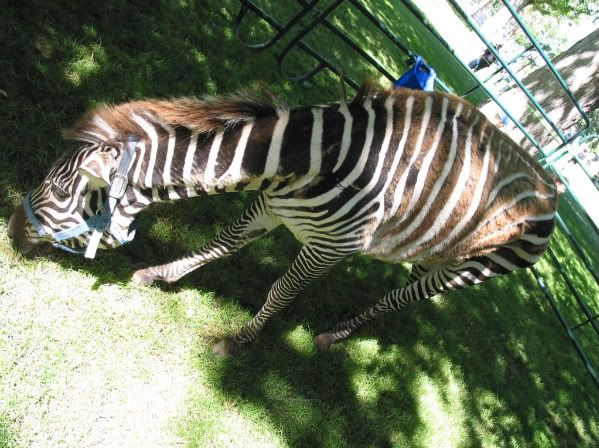 There was also a really small camel and I know that I took pictures of it and for some reason I don't have a clue where they went. They never loaded onto the computer.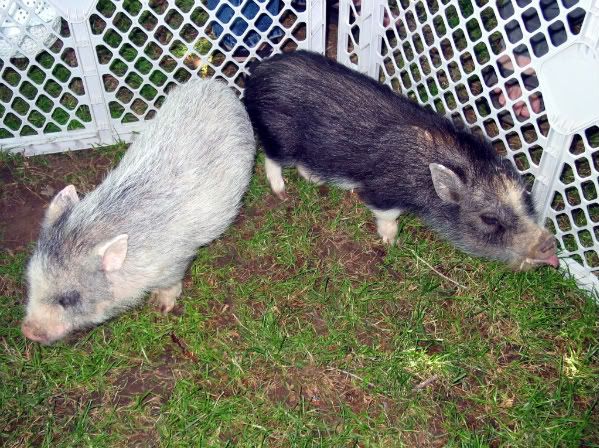 They also had these teeny tiny pigs that were pretty cute but felt so rough and kind of prickly. They had baby sheep, baby calves and teeny bunnies as well as a little kangaroo.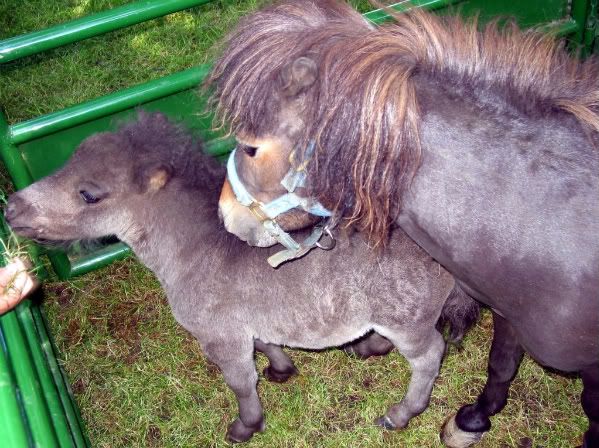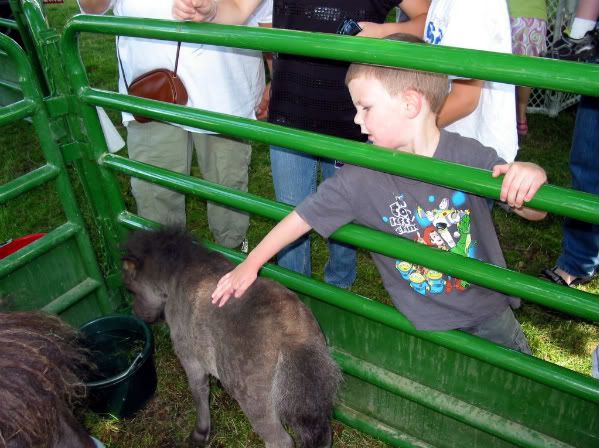 One of the cutest things was this little pony and her baby. This mom was so trusting and let her baby go where ever and anyone can pet either one. She was a good mommy.


Mindy and I loved the little goat. I have never seen anything like this this small. It was happy and cute and soft and fun to pet. It is just so small. It's name was Bambi.


The farm was also offering pony rides for $3. Jeff was pretty sure that Gunnar would not want to do it nor enjoy it if we had him do it. He figured Gunnar has 4-wheelers and a John Deere Gator power toy that he loves at grandpa and grandma's that nothing will compare. Boy was he wrong. Gunnar was the happiest boy on a pony out there. He loved every minute of it. He seriously had the biggest smile while kids around him either looked frightened or cried. He rode all by himself and would say "Ye Haw!" as he went around. It was the best $3 spent just to see his excitement.


We enjoyed a yummy cheap lunch of hot dog, chips and pop and a bag of cotton candy. Where else can we spend less than $13 for 3 lunches, a treat and a pony ride...this event every year. That doesn't include the free bounce houses and free kids relay games all afternoon long.


As we headed out, we found out that Thomas was out and giving rides. Gunnar had to jump on board and get his ride. He loves these things and who wouldn't, they are so darn cute.
We had so much fun and loved spending the time with Mindy as well. She is always fun to be around and we could not have asked for better weather. It was perfect.
Later that night, we headed to Jeff's brother's house for a BBQ.
Sunday was another day, it was aweful. My entire body hurt and I was sore and in pain. Church was long and hard and I knew I needed rest. We headed over to my parent's house for another yummy BBQ but I knew that I could just sit and relax and enjoy my family's company without any pressure to move. At night, we headed up the road to a hill, had fun with tons of sparklers and watched multiple cities light off their fireworks. It was a great end to the fun weekend that we had. We were able to spend it together and with lots of family. Happy Birthday America!