When Gunnar was born, I took a picture of him by this stuffed dog every month for a year. It was really fun to see his growth. I dug out the same dog for Brecken and sat him in the same chair so that we can track his growth.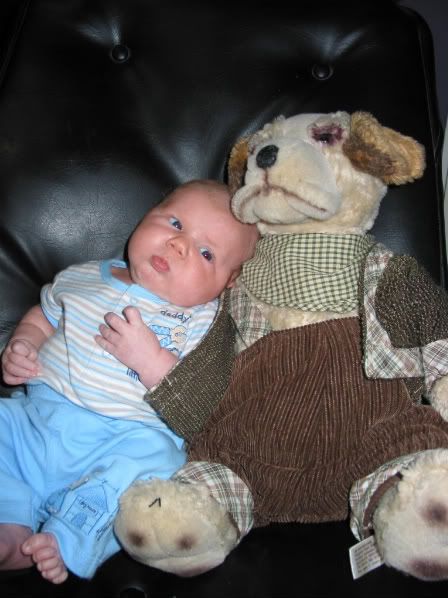 Brecken turned a month old on Saturday. Time has flown by and sadly I can't account for much of my time. However I do know that I have gotten tons of cuddle time in and that is most important right now anyway.
*Brecken is a big boy. He has got to be in the 10lb range by now.
*He has rolls on his entire body. I love it!
*He will take a pacifier sometimes but usually spits it out after a few minutes because he doesn't need it.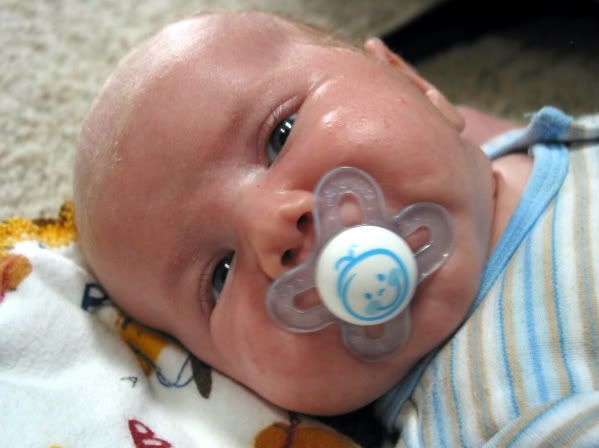 *He is a calm, mellow baby much like Gunnar.
*He still has his long toes.
*He LOVES Gunnar when Gunnar is being nice.


*He is starting to smile and interact with me.
*His smile melts my heart.
*Nobody is really sure who he looks like still, however we can definately say that him and Gunnar are brothers.


*He is such a good eater.
*However he is the gassiest little guy that I know.
*It takes a lot to make him go into a full blown cry. He works his way up to it with little warnings. When he gets close his cry becomes deeper. He is so patient.
*When he is starting to get upset, he starts moving his one leg really fast which reminds me of Thumper.
*He loves the carseat.
*He has to sleep with at least one arm out. It has been this way since the beginning. He also likes to have the blanket over part of his face most of the time.

We love this little guy so much. It has only been a month but it feels like he has been in our family forever. He fits in perfectly.