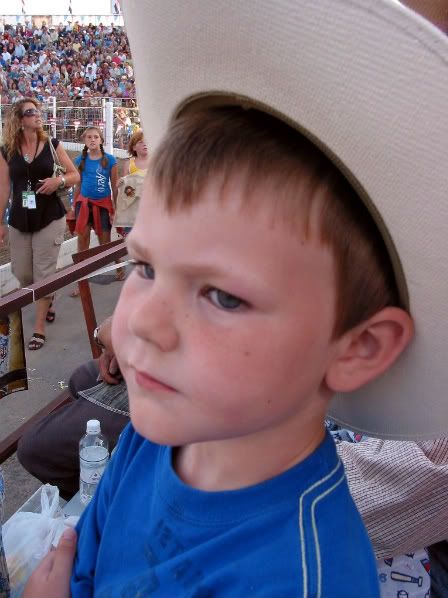 Jeff made the #1 parent mistake with young kids and that is he told Gunnar about a month ago that we would take him to the rodeo. Jeff didn't have to hear it as much as I did, but Gunnar talked about it at least 3 times a day for the entire month and he always called it the radio. He cracks us up. I heard how he is going to wear is cowboy shirt, hats and boots and ride a horse. I heard that every day!


Thankfully the rodeo finally arrived and he went on family night where kids get in free. I really like rodeos. They are really fun and fast paced and the crowds are pretty fun. The weather this year was great. Not really hot and not really cold. Gunnar ended up wearing just the hat and boots with shorts and his blue shirt. His cowboy boots are also blue. The same color of blue as that shirt actually. And he wouldn't wear his hat like you are supposed to.. He wears it tipped way back. We asked him why and he told us that if it was down, he can't see. Gunnar's first rodeo was when he was 4 months old so it was fun to go back this year.


Brecken loved the action. We think that he really did. He was so alert and awake for a good part of it. But he also took a nap in the middle of it too. These things are pretty loud. It amazes me how babies can sleep right through stuff like this.


Towards the end, he woke up and became hilarious. Out of no where, he was cracking smiles one after the other. Big smiles, not little half smiles.


And then they ended just as quickly as they started.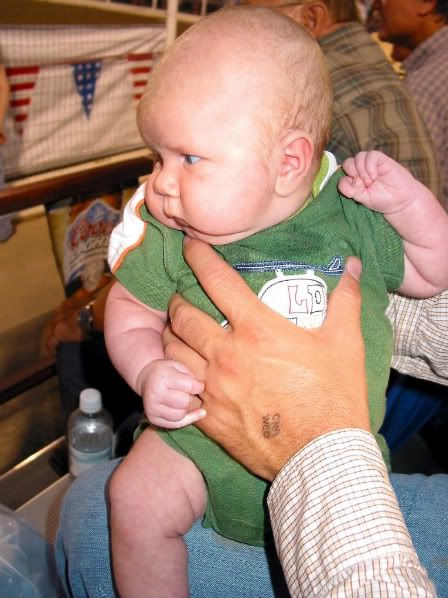 We had a lot of fun. Half way through, Gunnar decided that he was done and wanted to go home. I think it was because of all of the food around us and constantly being carried around us. He ate a really good dinner too before we left but that kid claims to have an empty stomach all the time. I was not about to pay lots of money for that. Plus I didn't even have cash with me so it wasn't tempting at all. This particular rodeo is on the professional circuit so it isn't one of your small town rodeos and the plus is that it is down the street from my house. Can't beat close family fun. Until next time, Caldwell Night "Radio".