At the end of July, we headed to the fair down the road for the cheap kiddie ride day. My mom came along and we had a great time. The kiddie rides are open just for kids 10 and under from 2-5pm and an unlimited ride wristband is only $10. Gunnar also gets in free because of his age. The best part is that I found coupons online with the local paper for free adult admission between noon and 2pm so we just got there a little early. Super cheap fun.


We had a lot of fun checking out the animals. This super tall lamb loved my mom. It was the friendliest thing ever and had us laughing.


We spent a lot of time laughing in the big pig barn. These things were big and funny.


It looks like we are more alike than I thought...
They were pretty cute.


Gunnar had a blast on the rides. There are hardly any lines if any and if the ride is not full and the kids are still getting situated, the person in charge will wait for a few stragglers running to get on the ride. It's great. We figured Gunnar went on at least 10 rides. That would have cost us about $30 just for him. Imagine if you had more than one child. The wristband is the way to go.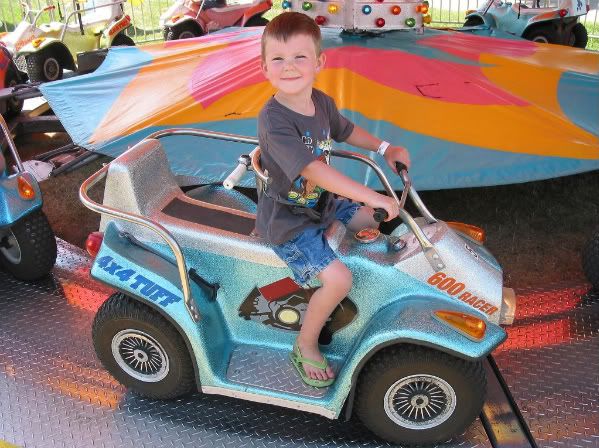 What did Brecken do the entire time? He slept peacefully in his carseat the entire time. Didn't wake up until we got home.


They had this really fun rollercoaster. To a child it was big and fast and super fun. Gunnar loved it! My mom and I just loved watching all the little kids scream with excitement so we made Gunnar go on it 3 times. He was totally willing and thrilled so it is not like we forced him or anything. For his last ride, he was first in line which ment that he could get to the front first. Him and the boy second in line were so excited. The other little boy was so cute. He kept telling us it was his first time on a rollercoaster.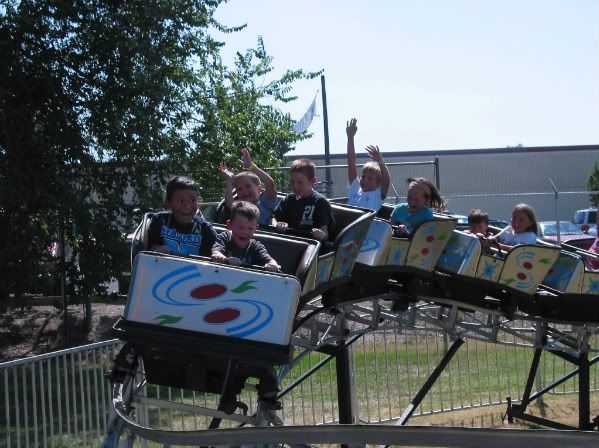 We also went on the courasel. Gunnar was so proud of himself for riding with no hands. I on the other hand was getting motion sickness for riding the thing backwards trying to get a picture. The operator lets the parents on for free and actually encourages it. That was fun.


We had so much fun and plan on doing it next year. We can't wait until Cami and Brecken are also big enough to ride.