Jeff got a huge flat screen tv for his birthday from his mom. It would not fit in our entertainment center that we have had for 10 years. So something had to give and it would be the entertainment center. We have this awesome nook where our tv goes. It is completely protected on one side and then the sliding glass door is on the other set back a little. The dimensions have to be very specific. I had requirements. It had to fit in the space, it had to have some sort of door or something to hide the components, it had to fit the components, had to cost hardly anything, and it had to look good. I searched craigslist over and over again for the perfect thing. I searched dressers, hutches, tv stands, you name it. One night I decided to search cabinets and there it was. The listing was as if angels were singing and lights were coming from the post. You know the post where your heart starts racing and you get so excited. I emailed and it was mine for $20. I wish that I had a before picture but I got really excited and started on it before taking one.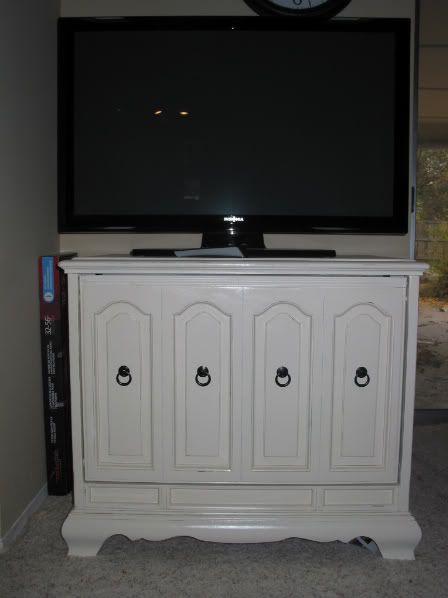 In the listing, the seller stated that it was a cabinet of unknown origins. It was determined that it was either a gutted stereo or tv console. I did a lot of priming and then painted it Heirloom White. When that was finished I was planning on glazing it but I wanted it to look really clean and simple. I opted to sand the edges instead to create the definition and the used polycrylic to protect it. The pulls are original and I spray painted them black.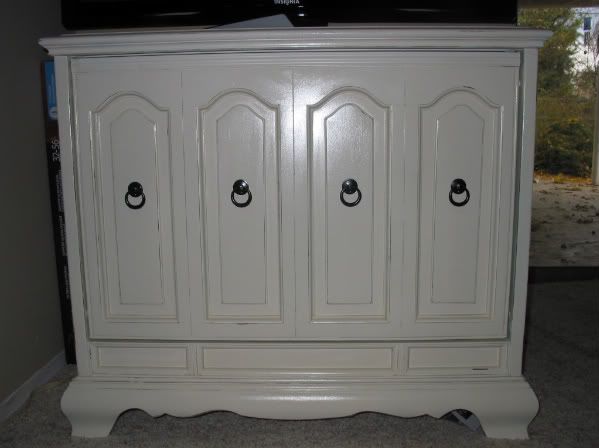 I just love the detail on this. Tons of character but the coolest part about this is the inside. It opens up! The front swings open and folds back into the top. Jeff added adjustable shelving brackets and the one shelf to hold the components. Everything is a perfect fit. I am so happy with this stand and admire it every time I am in the family room. We were initially thinking of mounting the tv but the space is so protected I don't think that we will need to do that.