During the summer Ren and Jeff helped Mindy and Rillz a lot in remodeling their kitchen. When Ren and Heidi's anniversary rolled around in October, they surprised them with a themed dinner. Mindy told me then that they were going to do the same for us in November for our anniversary. We were excited. Then details started to emerge that it would have a Bulgarian theme. Jeff was over the top excited. He served his 2 year LDS mission there and loved the food. He talks about it all of the time. For 10 years I've heard constantly all about it. The timing could not have been at a good/worse time. It was during the time that our heat was out. We warned them that it would not be the warmest but they did an awesome job in setting up the atmosphere and getting our mind's from our current situation. Jeff and I had a great evening celebrating our 10th anniversary. We had to be out of our house for about 2 hours. So we did random errands like taking our recycling to the recycle place and then we hung out at Ren and Heidi's for a while. It was fun to be there and see Camden for a while. They were kind enough to watch Gunnar for our dinner.


When we arrived, our front room was transformed. Mindy put up fun mood lighting and had candles in different spots. The front room is perfect because we have a swinging door from the kitchen into that room. The table was decorated with our menu printed out in the middle. Jeff immediately started reading it and recognized so many things. He was so excited. Mindy became or server and babysitter. I think Brecken enjoyed himself so much...pretty much being held the entire time.

Our appetizer was Orley Wraps (bacon wrapped cheese skewers) and Podlucheni Tikvichki (fried zucchini with dill garlic yogurt sauce). Oh man. I can not say enough about the bacon skewers. Anything with bacon is awesome but these were so good! I could eat these once a week if I could. I want some right now just thinking about it. The yogurt sauce was also so yummy. Unfortunately I was so into the food, I completely forgot to take a picture.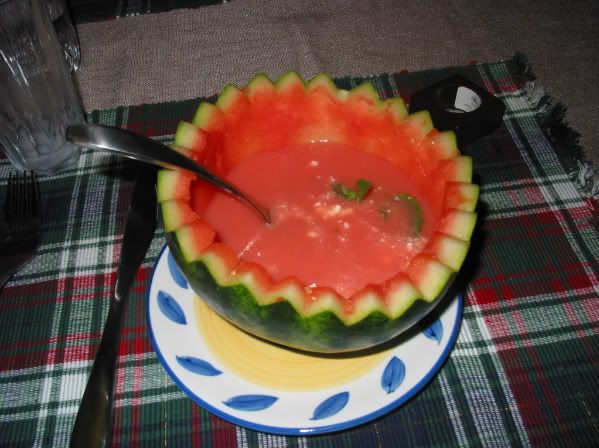 Our palate cleanser was Watermelon Tarator. Jeff was SOOOOO excited about this one. Tarator is a very traditional cold soup made out of cucumbers. Rillz used watermelon instead and added tons of yummy feta. It was really good. Jeff was just in love with his take on it. He could not stop talking about it. And with all of these dishes, the presentation was awesome.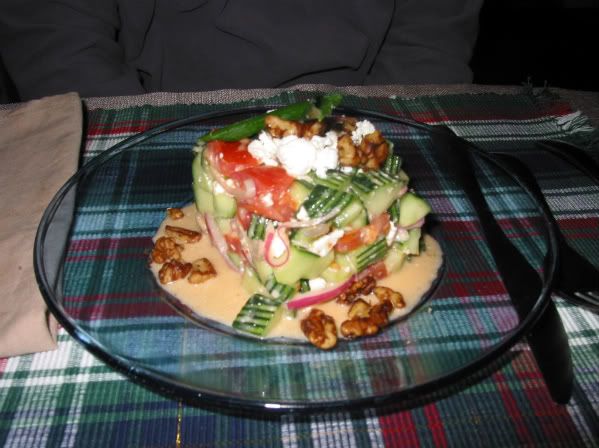 Our salad was called Shopska salad which was a cucumber and tomato salad with feta cheese. This is very traditional as well and Jeff makes his simple version of it all of the time. Rillz's version was of course a little more elaborate and beautiful. This salad was in the shape of a cube. Is that not the coolest and it tasted so good. I told Jeff that this was probably the most that I have eaten of cucumbers (besides pickles) in my life.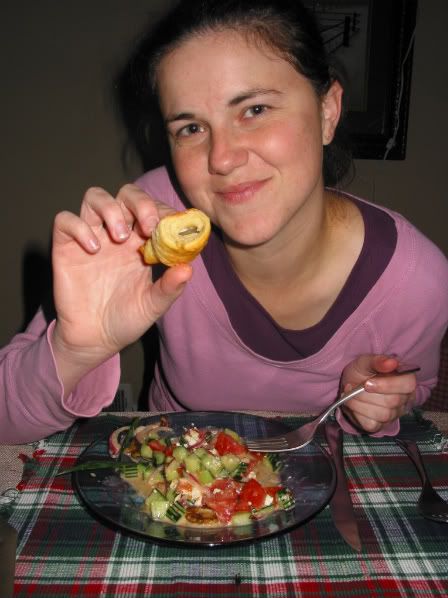 Mindy brought out crescent rolls and informed up that in Bulgaria they cook a coin in one roll and who ever finds it gets good luck in the next year, I think. Something like that. Jeff and I ate a bunch of them and still no coin. There was one more roll and it was my turn to have it. The coin was inside. It was really fun. Just excuse my crazy look.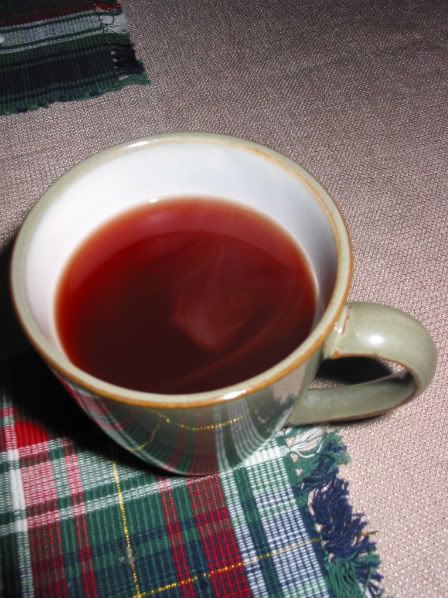 Just before the entree, Mindy brought out a really yummy hot drink of cranberry and spices. Almost like a wassail. It was really good and it felt good to drink something warm. The color was really pretty too.


The main dish was Roasted pork wrapped in vine leaves with a seasoned vegetable medley. The pork just literally melted in your mouth. Everything had such great flavor and there was the yogurt sauce again that I dipped my meat in.


If that wasn't enough we had dessert on the menu. It was Bulgarian baklava with a warm anglaise. It was to die for!!! It was so good. When I think of baklava I think of the pastry stuff that you buy in the store. More puffy and somewhat soft and very sweet. Rillz made the best baklava and it was nothing like the store bought stuff. According to Jeff it was more authentic than the other stuff. It was actually more of a carmelized type of texture and for the Rillz twist he added feta cheese which was really good!! The cheese was an awesome idea. His version was also really sweet but incredibly addicting. He also added the cherries on the side which Jeff and I are not big fans of. Then Rillz explained to us that they compliment each other and should be eaten together. Oh. So we tried it and they were great together.

Mindy and Rillz were really generous with their time and money to put this on for us. I was also so amazed at Rillz's skills and passion for cooking. He loves it. When I think of cooking I think of a chore so I can't even understand how someone has a passion for it but he does. He loves to be creative and experiment. Mindy said that he was constantly researching Bulgarian foods and things that were authentic. they also sought out authentic ingredients. A while ago I discovered a European foods store in Meridian and bought Jeff Bulgarian feta there. It was a little too salty for me but he gobbled it up. Mindy and Rillz also bought it among other things making the flavors of the food really yummy. It was fun to see Jeff extremely excited about this and to see Rillz really excited about doing it.

Heidi had to go to the store so she was kind enough to bring Gunnar home for us. As Jeff was watching tv and I had to do something outside, Gunnar decided to just run around. He told us that he needed to do his exercises. Alrighty then. Diesel tipped his water all over and I told Gunnar to be really careful. A little while later, Gunnar comes out with his bicycle helmet on. As he was running in place, I asked him why and he told me that his dad suggested he put on his helmet just in case he fell. Oh brother. What a funny ending to a great night. Thank you Mindy and Rillz! We love you!!