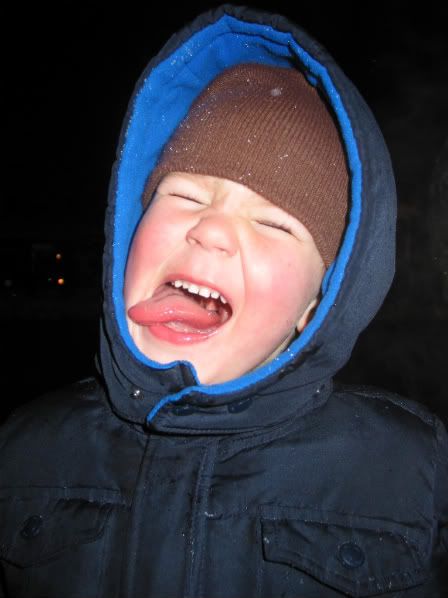 Caldwell always has a night light parade to kick off the Christmas season. Two years ago we ended up starting a tradition where my family comes over for taco soup about an hour prior to the parade, we head to the parade and then head back for hot apple cobbler. I've been lucky enough to delay start my oven for the perfect time and get back to done cobbler. This year's fun was no different. This year we had snow on the ground and it was cold but definately not as cold as last year. My mom and Heidi stayed at my house this year. Cami was just too small still. They thought that I would leave Brecken but we bundled him up and he was toasty warm. Plus he is at the age where he likes looking at the lights.


Mindy became the official baby carrier. When Mindy is around, we know that either Cami or Brecken will be with her. It's nice to have that sometimes. Brecken was in heaven having someone hold him the entire time. He is a cuddly, loves.to.be.close baby.


The theme for the parade was around toys. We saw lots of misfit toy islands and lots of Toy Story. Some of them were really well done. On one of them Buzz Lightyear was swinging around all lit up. It looked like a lot of fun. It also wouldn't be a smaller town parade without a cow and lights on its back. Oh...and the big bow around its belly.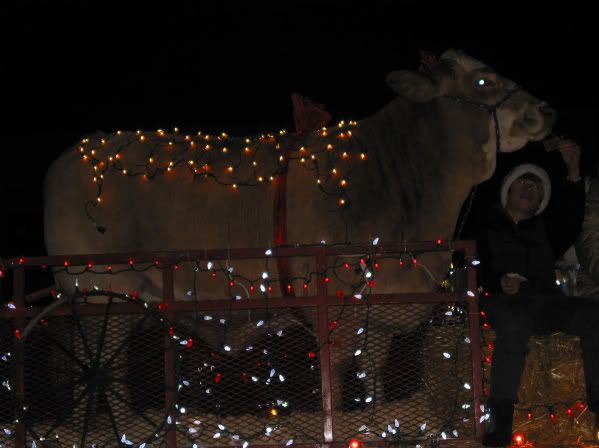 Afterwards we walked around town to look at the lights along the Indian Creek. They had over 250,000 lights this year. Hopefully next year we will make it to the Fire Station Open House to see Santa. This is the one year that we missed it because Jeff had to work and we still have one vehicle. I always look forward to Santa during the afternoon and the parade at night.