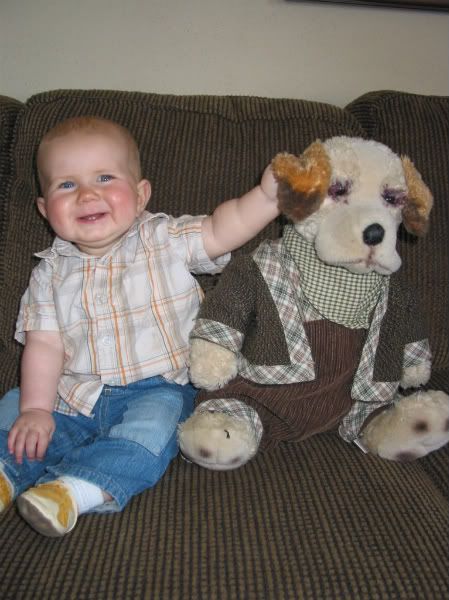 Brecken is 9 months old now and boy do I love this little boy more and more. It doesn't help that he is absolutely adorable and a complete charmer either. I was thinking back when I was pregnant with him and I had an inkling of wondering I could love another child. It wasn't all consuming like some people but you wonder. At least I did for a split second. Let me tell you, it is easy and it is possible. I couldn't imagine out familywithout our Breckie Boy. Before we found out what he was, I wanted a girl. I honestly think I felt that way because it felt like the next thing to have. We had a boy, now a girl (plus I had a definate girl name picked out and unsure of a boys). I think deep down I knew he would be a boy. I am glad that he is a boy. Gunnar needed a brother...we knew boys. Anyway, he is happy and go with the flow just like Gunnar was.

He weighs in at 18.8lbs (25th percentile), 27.75in height (50th percentile) and an 18in head (who know where that falls--big).

This last month he signed milk and eat which is exciting. He also experienced his 1st bike trailer ride which he was so overly excited about. It was pretty fun. I could hear him squealing in delight as I about burst a lung trying to pull him and Gunnar in it. Jeff will have a turn next time. March 15th he got his 1st tooth. It was actually pretty painless for him. Pretty much right after that he got his second. Both were on the bottom. He signed milk so incredibly clear. I think he is catching on. Amazed me how quickly babies can learn new things. This month he also clapped his hands together. This little guy also loved to bang on the little bongo drums that we have. He loves it. Pure joy comes across his little face. Towards the end of the month, Heidi was leaving and he waved bye bye to her. It was pretty cute and he was pretty proud. The next day he said bye bye to my mom. He said it in this quiet whisper. He can now say mama and dada and whatever jibberish he comes up with. One day Gunnar, Brecken and I had errands and from the back seat I could hear big belly laughs coming from Brecken's little belly. Gunnar had him laughing so hard. Gunnar and I laughed with Brecken for quite some time. Brecken started flipping to his tummy at night now. It gets really frustrating because he wakes up crying and confused and not sure how to get himself back. So annoying. Most times his head is also in the corner of the crib. He apparently can't stand sleeping on his belly. This month it was also warm at least one day to head to the backyard and experience the swings for the first time. He loves them! Gunnar never cared for swings but Brecken loves them.

Brecken brings such a sweet little spirit to our family. He is always happy and lights up any room he is in. We just love him so much and I love seeing him grow and learn new things.