Gunnar's new room is finally finished, or pretty close to it. We moved him a while back to this room leaving the other one set up as a baby room. He would eventually end up over here anyway, so when he grew out of the crib, he was moved. It is all Disney CARS themed. He loves it and I am quite proud of it. It is a really large room. Enough for two kids comfortably in the future.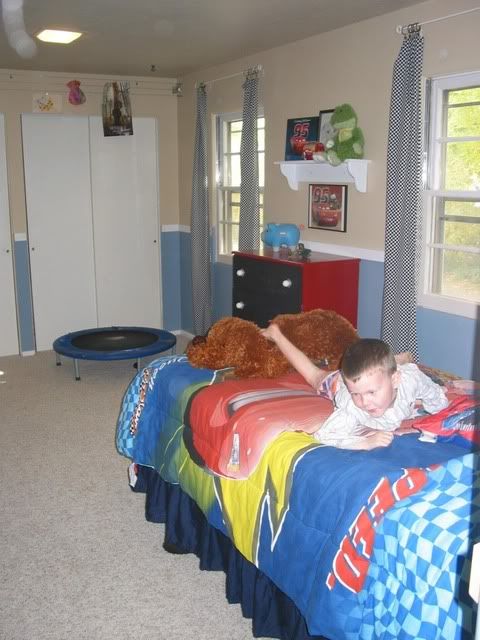 To the left of the door is this gigantic chalkboard. I am so proud of this. I found the frame for $5 on craigslist. It was just an open frame. So we bought a 2ftx3ft piece of board to go into it. I painted it with chalkboard paint ahead of time and then plopped it into the frame that I spray painted red.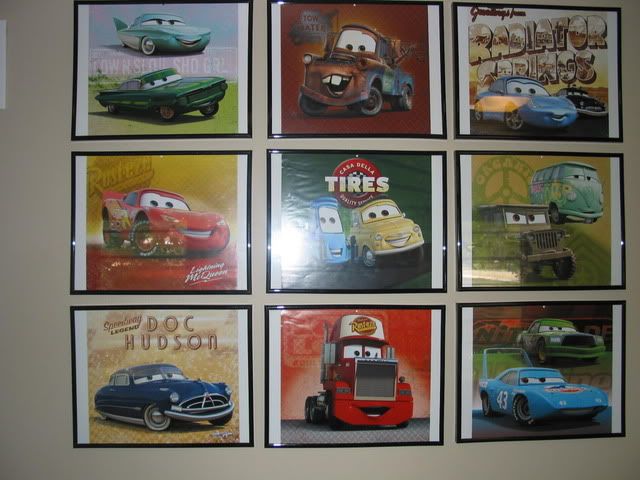 We had this huge expanse of wall that needed art that would not break the bank. I used a calendar. Bought the cheap frames in a 2-pack for $7 at Michaels. I bought them a pack at a time with a 40% off coupon until I had them all. I cut out white cardstock to frame them out. Super easy and cheap wall art. I like how it feels up the space and creates som drama on the walls. When we change the room, the art work will be easy to change with it.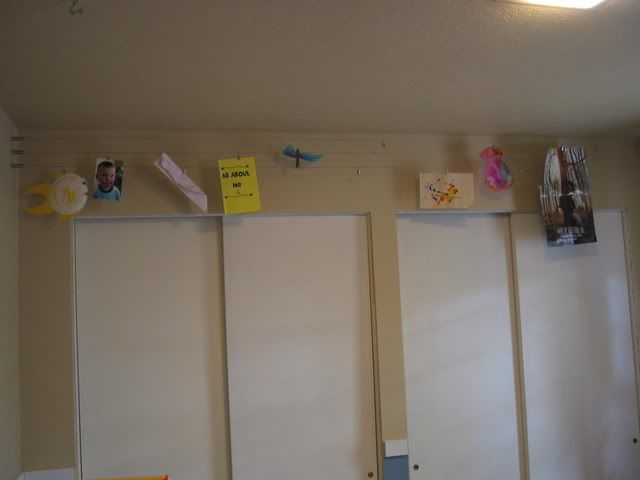 I saw this idea on the internet and new that I wanted to do it. These are curtain wires from Ikea stretched the length of the wall. The little clips come with them. I bought 3 sets at a little under $5. This is the perfect place for all of the little arts and crafts things Gunnar comes home with or does. He insists on hanging things up there like the movie poster.
I have showed the dresser before. The black drawers are chalkboard paint. I did have what was in the drawers written on the frontbut that is rubbing off. I need to rewrite it. The knobs were the original ones with the dresser but I backed them with washers from the home improvement store. The gray garbage can was a cheap after school clearance sale for like $2. I really needed a shelf and about the same time I decided that I really wanted to find one of the old Little Tikes piggy banks. Shortly after I decided that, I was headed to Albertsons and low and behold there was a yard sale with that very piggy bank. I immediately turned around to stop. I also found this shelf and painted it white. At the same sale I also bought Gunnar 2 games and all of it was sooo cheap. Yeah for yard sales. In my case, I think about what I am looking for and before long, it appears somewhere. Whether that be yard sales, thrift stores, on the side of the street. Gunnar also insisted on putting the drawn picture of our dog Kaika in here. Brent drew that for me about 8 years ago. Gunnar loves that dog.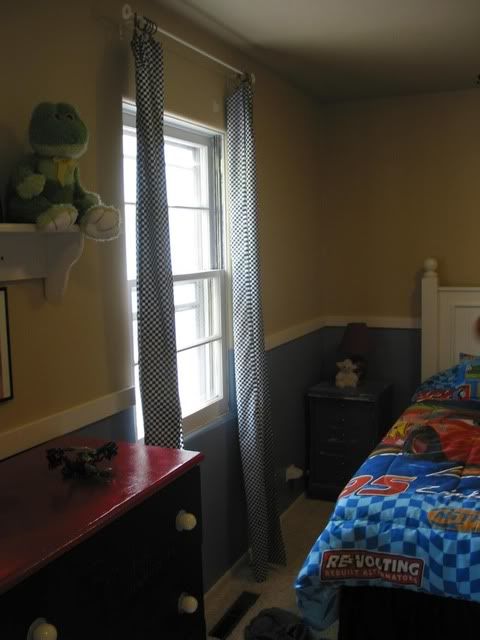 I tried to get a good picture of the curtains and yes I need to touch up the wall a little. The windows are not that wide, I wanted something simple and something that would not cost a lot. Surprisingly, this was probably the most expensive single thing in the entire room. Even more than the headboard. I decided that I would be the correct yardage lengthwise and then cut the fabric down the center to create panels. Then I just finished up the sides. My super sewing cousins would laugh. I just about went of the fritz like my machine. Somewhere in the middle, my tension went nutty. I picked out one side of these at least 4 times. I finally got my manual out and figured out how to correct the problem. Seriously these were easy. I then put them on rings from Walmart that were a little under $5/pk of 7. I had to get 3 packages. They were all hung on a $1.49 curtain rod from Ikea. We needed something simple and cheap. Those did the job. They are the perfect size when closed and work with the room.
I decided to use this blurry picture of Gunnar because that is so him. Always moving. He moves and moves and never stops. The letter g above is bed I have had for a long time. I got it at Michaels on clearance cheap when they had them. I am talking years ago. I spray painted it a textured metal spray paint in keeping with his room. I needed removable sticky things for the back and Albertsons had them on clearance for $.25/pk. See, I think stuff and it will appear. The bedding my mom got him, the bed skirt was from Walmart. The nightstand I picked up from Savers for $14.99. I really liked the shaped and planned on redoing it but the color worked and the cool worn spots worked. I really like that piece. The red lamp I got for a couple of bucks at Savers and the lamp shade was $.99 at Goodwill. I could not find a lamp shade that worked and worked for my wallet but this eventually popped up. Now the headboard used to be sage green. I picked it up from a wholesale priced decor place for $17.99 and spray painted it white. The store is only open one day per week and offers killer deals on home decor. One Saturday this spring I decided to head over for their rare clearance days. There was the headboard at $25 with a discount on top of that. The ladies were pretty sure it was the owners and she was just getting rid of it. Of course I will take that! I did have to order plates to connect the bed frame and it was made for taller rails. So I had to buy those bed frame boxes to sit on. So the bed is quite high and fun.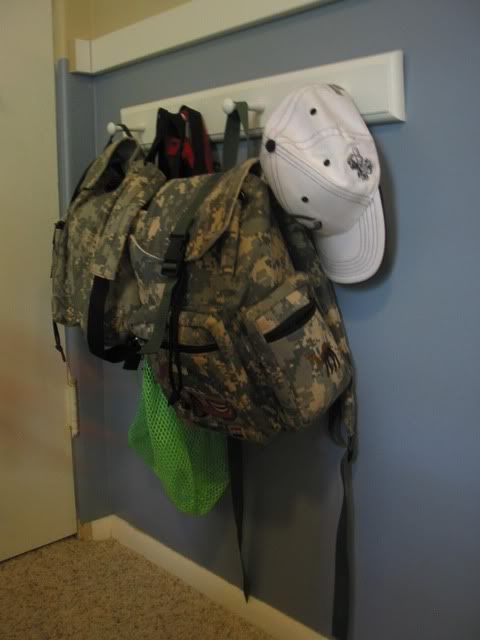 Lastly, behind the door is a hook rack for Gunnar's hats and backpacks. I also bought that at a yard sale for $1 and painted it white. It was very girly pink. Oh ya, and the boards around Gunnar's room are nothing fancy. Traditional molding was to fancy and too expensive. This stuff was a little over $2 for an 8' section. It works perfectly in this room. I also lack a picture of what is on the other side of that frame. Gunnar has a small party kitchen and hutch to match. He loves cooking things up in that. He loves his new room. I wish that I could say that it is always this clean. We cleaned it up special just for you.