For this post to make a little sense, I first need to mention that Brent and Noelle are living in Caldwell! They have moved here to go to BSU and we are quite excited. My parents have living space above their shop and that is where they are staying. No it is not attic size, it is more the size of a one bedroom apartment. Actually bigger. It is big. Anyway, Noelle's parents helped move their stuff down last weekend and one thing led to another and a pumpkin carving contest was on for Monday night. I think a little of the pumpkin carving thing stemmed from Ren and I learning from Rillz a couple of months back that he has never carved a pumpkin in his 30 something years of living...ever.

The rules of the carve were anything goes, except for things that may blow up the house or cause a major problem. We had a two hour time limit as well. It was quite funny. As we all slowly arrived, we started learning that we had all been online looking at designs and stencils throughout the day. This was serious stuff. My dad used power air tools that sounded like the dentist. I hate the dentist.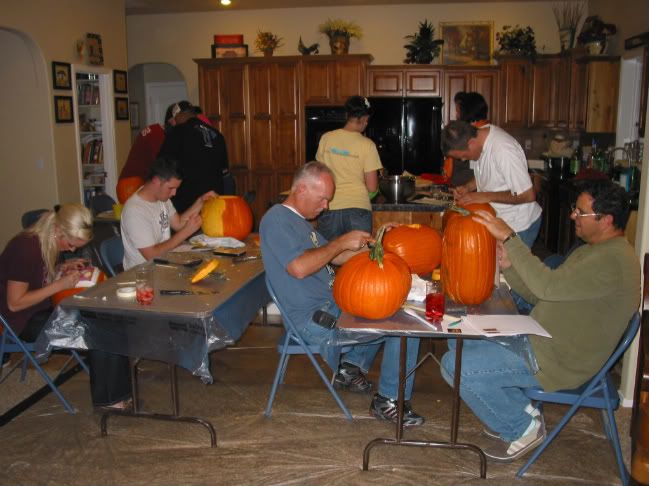 While we so carefully worked on our pumpkins, Heidi and Katie (Noelle's mom) decided that it was their job to sift through guts for the seeds to roast. I even finished my pumpkin and helped the process move along. We had 3 or 4 cookie sheets FULL of seeds. They were so good afterwards too.


Every body did such a great job. I think Ren was the only one that did not completely finish. He picked this enormous pumpkin from the pile. It was big but cool. Gunnar was so incredibly thrilled with his Thomas pumpkin. He even had a blue glow light in it making it Thomas.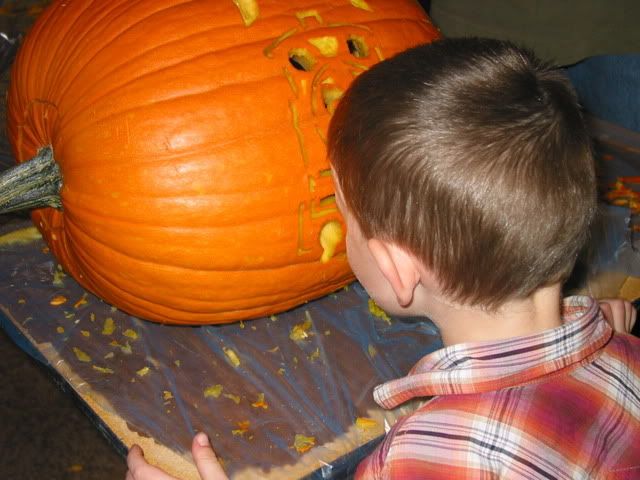 Everybody had a great time. Rillz was hooked on pumpkin carving and loved it and everyone walked away with great pumpkins and super fun memories. Also, how lucky were we to have every single one of our family members together. Mark and Katie just made for extra fun.