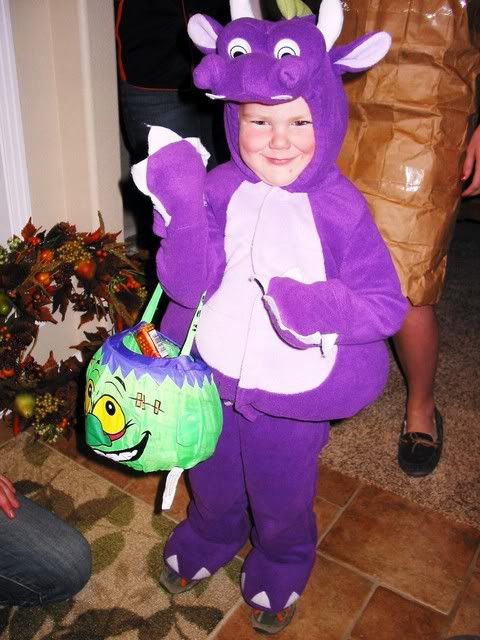 Gunnar was absolutely excited for this year. We had his costume months ago and he talked about it seriously for about a month straight. The day finally came and for him, it was never going to be dark. Finally the time arrived and we headed out. Gunnar was a purple dragon. He likes to tell people it is like the dragon on Shrek (that is a girl dragon, don't tell him that). Our ward did not have a trunk or treat and boy am I glad that they did not. This was WAY better. It reminded me of the days when I went and such a thing did not exist. It was fun to run from house to house and get to know our neighborhood better. Every year I buy regular sized candy bars. We left without a single trick or treater our way. It also doesn't help that we were literally the only house lit up on our half of the long street. Now I have lots of candy. Anyway, the old fashion way is the only way in my book. It was fun to see Gunnar do his thing and the happy people handing out the candy. One house had popcorn balls, these gummy sticks, small candies and then regular sized candies for the moms/dads. Now that was awesome!


Jeff dressed up in his getup too which Gunnar was so happy about. Last year at the ward trunk or treat, nobody recognized him in it. Too funny.


I loved the round belly on this costume. So did Gunnar. He told more than one house that he had a silly belly and showed them. Many people thought he was a dinosaur at first until Gunnar pointed out the wings.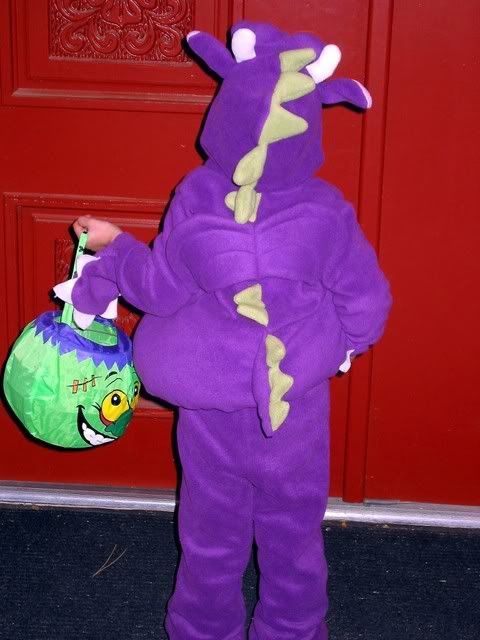 We went to many ward members along the way and many others as well. I loved going to the sweet older ladies homes where they had candy laid out on a silver tray. Most of the time the people would let Gunnar pick what he wanted. He also figured as long as the tray was in front of him, he would simply grab more. We had to stop him and quickly caught on to his tricks for the night. We had fun going to the Relief Society presidency members houses that I work with. Carol bought him regular sized M&M's which he was happy about. Next was the Mayes. Supposedly brother Mayes dresses up as Billy Bob with a firepit out front playing cajun music and blowing an airhorn. Their street gets TONS of trick or treaters and we missed all of the fun. Instead they invited us in for pumpkin bars and milk and great conversation. It was really fun. Gunnar helped their daughter in law open the door for trick or treaters. We had a really fun few minutes visiting them. We ended up not going to anymore of the houses on their street and headed to my parents.


They end up getting more trick or treaters than we do and they live in the country on a dirt road. I have somehow got to get more trick or treaters to my house next year. Just one would be nice.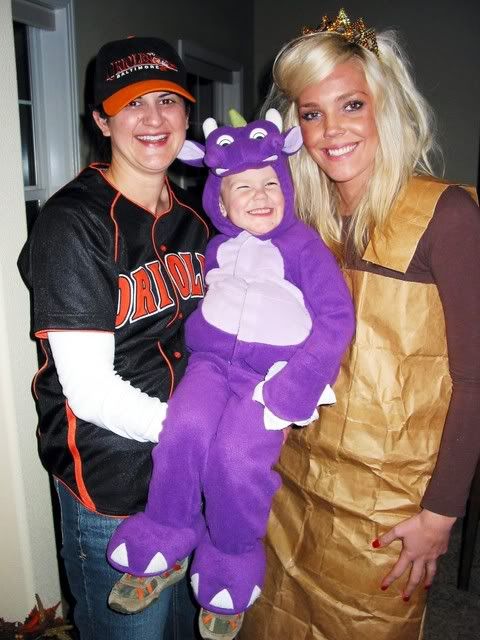 Heidi/Ren and Brent/Noelle went to their wards trunk or treat, so they dressed up. Everyone was an Orioles fan except for Noelle. She was the Paperbag Princess. Supposedly it is a childrens book that she loves but none of us have heard of it. She looked great regardless. She did mention that another little girl at the trunk or treat was the same character.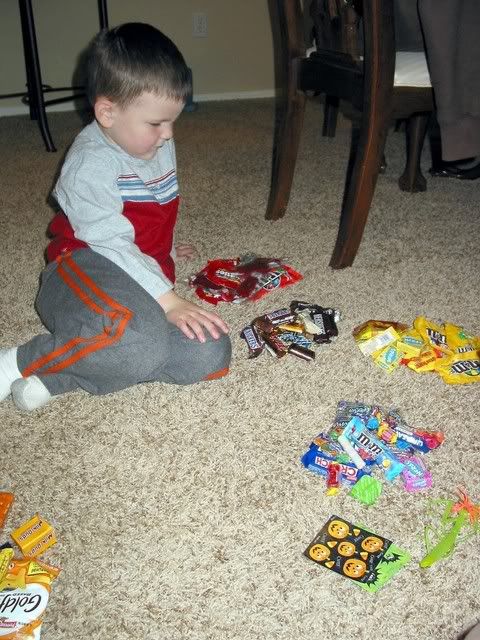 Gunnar and Auntie No No organized the candy by color. He was so incredibly generous and would share anything that you wanted. He has also rationed it which I am completely surprised about. He is not gorging like I thought he would. He is probably so proud of it, he wants it to last. He did have to work for this.

Something that I did learn, traditional trick or treating yields WAY BETTER candy!! We mainly got chocolate. The trunk or treat last year brought lots of sugary stuff and little candy. Surprisingly he did not get a single sucker this year. Last year he got lots.

I am already looking forward to next year. Three year olds make halloween so magical and fun and halloween is by far not my favorite. He was so fun to be with. Right after Carol's house as we ran to another, Gunnar told me "mom, my tummy loves halloween!". He got excited about the life sized witches on porches, strobelights making it hard to see, lit up pumpkins, other trick or treaters, scary masks greeting us at the doors. He loved it all. He told me that trick or treating was his favorite thing about Halloween last night and I don't even think he was refering to the candy.
I am off to eat a candy bar!