Some of you may be wondering where you have been to miss a new baby in our house. Thankfully I didn't have to carry this bundle of energy for 9 months or 1 hour. We would like to introduce to you: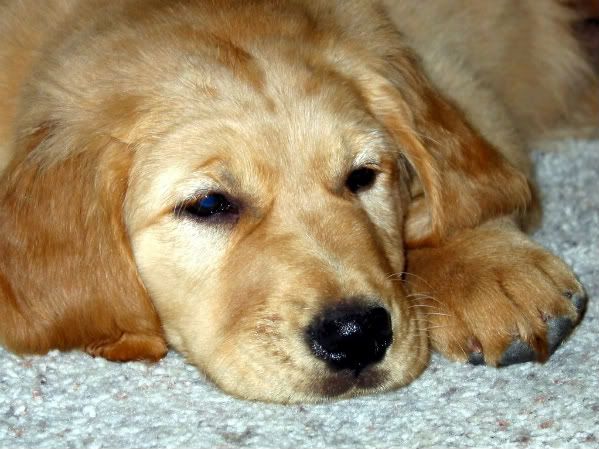 Adopted November 13, 2009
He is the prettiest shade of darker golden. Jeff and I have been talking about getting a puppy for some time. However we were thinking that Spring would be good given the fact that we have to potty train him. We knew that we wanted a male and that it would be named Diesel from Thomas the Train. We also knew that we wanted a Golden Retriever with a darker golden or red color. Thursday my mom said that she would get me a puppy for my birthday coming up. I told her that I needed to talk to Jeff. We decided to go for it. So Friday my mom and I picked him up in Nampa. He came from a litter from Paul Idaho. The lady had 2 litters born around the same time and she herself had a baby the day after Diesels litter was born. She needed to find for these puppies soon and was offering them at an awesome reduced price given their lineage. So she took the one litter to her mom's house in Nampa and still has the other. Diesel was the last puppy to be claimed. I told them what I was looking for and he fit the bill perfectly. He is exactly what we wanted with the perfect personality. He is pretty chill and calm and very interested in being with his people.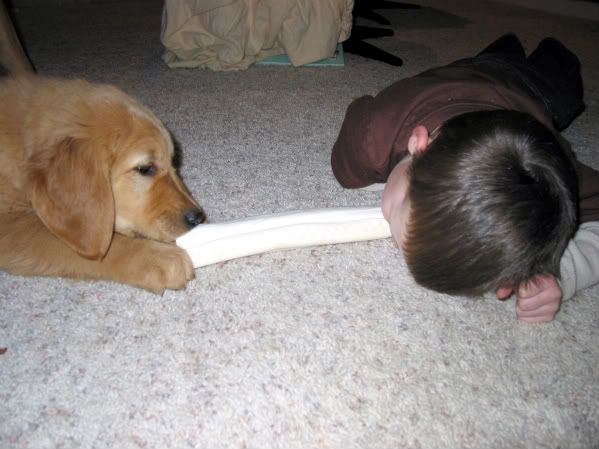 His tail speeds up a few notched when Gunnar is around. Gunnar isn't the nicest but he is learning that being mean will not be tolerated. He quickly learned that all of his things need to be put away and shut in his room. He is doing really well at that. Gunnar also loves it that the two dogs match. Their colors are extremely similar. He does look like a little mini kaika with longer fur.
Gunnar is trying really hard to help out with puppy chores. On his own, the first night, he took the lid to the small garbage can where we keep big dog food, scooped some food into and brought it into the house for Diesel. Diesel loved it and it was quite funny looking.
His first walk was fun. He loved trying to keep up with Kaika, which he couldn't. Half way through he had to be carried. He wouldn't move another inch. He did SO well on a leash for the first time. It was amazing. He walks along easily, doesn't really put up a fight.Today I took him to the pet store for a couple of things. He did awesome. Sat by me when I stopped to look at something. I am so excited to see his personality more as he grows.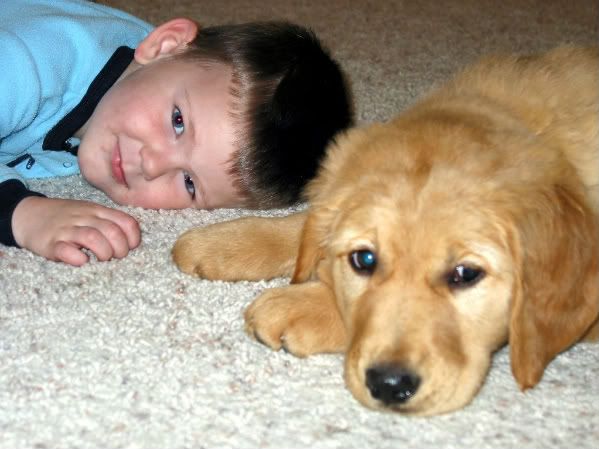 Jeff and Gunnar picked up a super cheap small dog bed at Harbor Freight Saturday for $5. Jeff said Diesel instantly layed down on it and knew it was his. Kaika also thought that she could fit. I don't think so.
We are so excited to have this little guy with us. Work yes but a man's best friend, right? I totally understand that they grow into dogs but I can honestly say that I have always thought that full grown goldens are some of the prettiest dogs from puppy to adulthood. Not to mention they are one of the very best family dogs with awesome temperaments.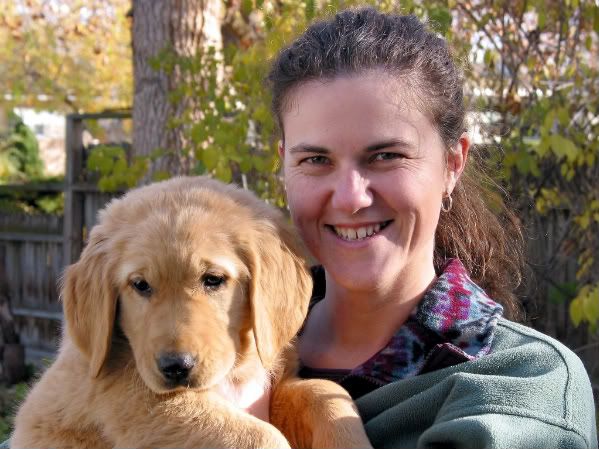 With lots of this...and lots of patience, we will have raised an awesome dog.
We love our sweet Diesel and believe me you will be seeing many more pictures of him.