Before all of you think that I am the one running the half marathon...keep dreaming. Like no way. Not in a million years. I am more of a sprinter type girl, or at least used to be. Last Saturday, Jeff ran his first ever, and I have a feeling not his last, half marathon. He was pumped and excited and ready to go. We go there early for packet pickup and realized that it was a georgous day. Great day for a run. There were a lot of people out for this. It was funny because the 10 or so portapotties were sporting looooong lines when the race started. Thankfully the race starts when you cross the starting line and the thing on your shoes starts keeping track of your time.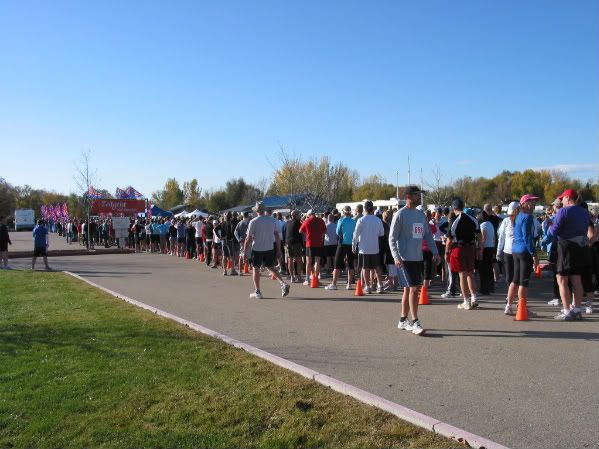 Gunnar and I decided to kill time and meet Jeff and mile 11. While we waited we played in weeds in a field. In the middle of that field, Gunnar informed me that he needed to go the bathroom, not just #1. So that was his first experience pooing in nature.


Jeff finished strong. He completed the half marathon in 2:17:23. That is awesome. We left about an hour later and people were still finishing. Jeff said that there were a lot of walkers. I told him that if I ever ran something like that, I would make sure that I could at least run most of it. I would definately finish running unlike those that walked the last few feet across the finish line.



I am so proud of Jeff. Something that I wouldn't do but this is totally his think. Gunnar and I had a blast cheering on all of the other runners. Watching their different running styles was quite interesting too.
Jeff hopes to do the Sawtooth Relay next year. He needs to get a team together of several people. Each person runs 2 5-mile runs. Sounds like tons of fun near Sun Valley. Are you interested or know someone that might. Let us know!