So this is way overdue but I wanted to get this on here. My dad celebrated his big 50th birthday November 9th. We all wanted to do something big for him. Why not a surprise party then. We had so much fun planning it. Before my dad got home from Iraq, my mom and I withdrew a large sum of money from the bank so my dad wouldn't see anything being spent as we went along. We divided it all up with the people that had the most experience in that area. Between all of us, it made relatively light work considering how big this party was going to be. Naturally I was in charge of postcard invitations.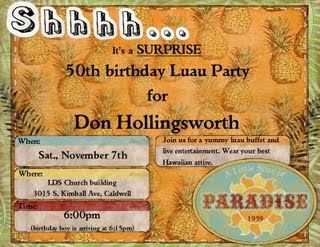 We sent out a little over 100 invitations. Heidi was so sure that this surprise party would be ruined by someone. Thankfully the invitations went out, that day we headed for Yellowstone, they didn't go to church that following Sunday so there was only one Sunday before the party to get through. We invited ward friends, relatives and friends from the past. The party was going to be so big and we were going to dance at it since it was a laua, we reserved the church building. I was also in charge of that.
Heidi &Ren were naturally in charge of the cake and she also worked on the decorating with Noelle.

Is that not the coolest cake! They did such an awesome job. The strings are made from dental floss. Genius. Their cakes are taste really good. Heidi's dream is someday to do this as a business. Want a cake done by her?I am sure that she would be interested for a pretty penny.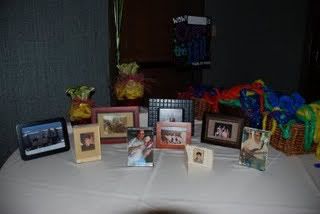 Aren't these centerpieces so pretty. On the other tables they had balloons tied to pineapple. Each person also got a lei when they arrived. Everyone arrived on time. My mom was in charge of getting my dad to the church. She concocted a story about needing to see the Bishop that night and that she wanted to go to dinner afterwards (he was working in the shop and she needed to make sure that he had nice clothes on for the party). We were all neervous about the plans and if he would be surprised. We worried that he was figuring something was up. They were watching TV one night and someone was given a surprise party. My dad told those that were there that nobody better surprise him with a party. Whoops. I don't think he suspected it at the church if anything.
So we heard that they were close. It was so funny to have over 100 people there with the lights completely off in the gym. It was hilarious. We were so excited and so was everyone else. They finally arrived and boy was my dad shocked.

One of the best moments was when my dad spotted my Aunt Cathy from Arizona. She was a complete surprise. My great aunt kindly picked her up from the airport and let them stay with her. It was by total accident that she was informed of the party. She ordered a couple of things from me on Etsy. I really had no idea it was here until I had to get in touch with the buyer about one of the things. She emailed me letting me know that it was her. I was so happy. I happened to mention that my dad's birthday was coming up and that we were throwing a huge party. She decided that they would come. I am so glad that she did.

Mindy and Rillz were naturally put in charge of the food. It was SO yummy and pretty inexpensive to fee all of those people. We even had some leftover. The best! We really could not have pulled it off without Rillz and his know how and help. Holy cow he was helpful!

We also had entertainment. The entire night was so different for me in performing. Usually it was no big deal but I was a nervous wreck. It was aweful. The program was set up a little differently than I am used to which I think threw me off from the beginning. It was nutty and probably my worst performance ever. However we all got through it, people liked it and we had fun. We always have audience participation in the program and they are the best. It gets people laughing.

Afterwards all of us kids cleaned up and headed home to relaxation. We had a great time. We were all able to see people that we had not seen in a very long time. I also think that my dad really enjoyed it. We asked him afterwards if he really was surprised and he said that he was. He had no idea. He asked how Gunnar kept it a secret... easy, we didn't tell him about the party until the day of. We aren't dummies.
Happy Birthday dad! We love you so much!