Christmas Eve is always dedicated to my family. Every year for a long time now, we all head to the movies. This year we saw Alvin and the Chipmunks: The Squeakquel. Gunnar had been asking grandpa to go for weeks. It was actually really funny like the first one. The theater was packed and we had a fun time.

It has been a deep rooted tradition that we have breakfast for dinner that day. It stems from my mom's side where my grandpa's favorite meal is breakfast so that is what they always had. I love this tradition and we love breakfast for dinner. This definately brings the entire family together. The only thing missing was Brent and Noelle. Out of all of us, they will be the only ones missing every other year. This year we slip up the food duties and dinner was a breeze.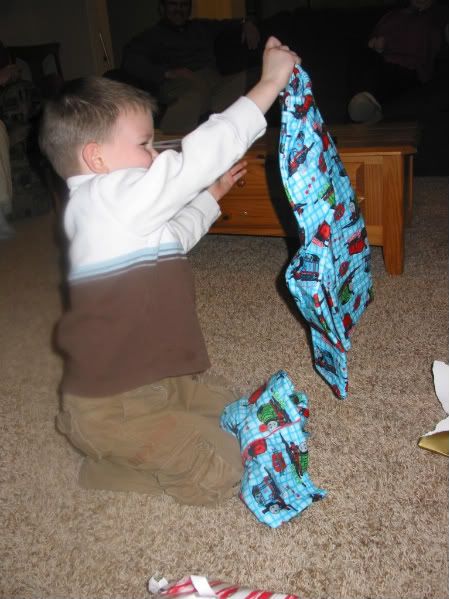 Since Gunnar was born, we've brought his Christmas jammies with us. He was excited to find Thomas the Train jammies. Oh ya, please excuse the lovely smudge in all of these pictures. I didn't realize there was a lovely fingerprint on the lens until about half way through Christmas morning when I cleaned it off. So irritating.


Every year the kids rotate families. This year we had Heidi and Ren. I knew early this summer I wanted to make a bandanna picnic blanket for them when I spotted one on a blog. Easy as can be. I can do this. All I needed was 20 bandannas, batting and a flat sheet for the back. The dimensions are for a KING size quilt. Aaaah! I later learned that this was huge and kind of cumbersome to make. I still really loved the results and apparently Heidi has been a little envious of our picnic blanket and wanted one. I started this on December 23rd and finished Christmas Eve when we exchange sibling gifts. Let me explain. During the holiday season I was overloaded with over 30 advent calendars from Etsy as well as a full size wedding and smaller baby album for a long time client of mine. I was selling advent calendars well into the middle of December. Kind of strange. I also had Heidi's hula gift and then this quilt. It was a busy month and frankly I am thrilled it is over. Because I also planned ahead and knew what I was doing for Heidi and Ren, I found the bandannas at the Dollar Tree 2/$1. Screaming deal I tell ya. Those things are spendy.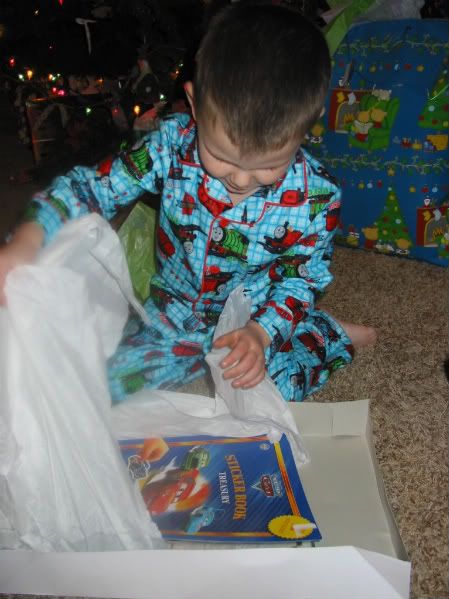 Heidi and Ren were also good to us. Ren is incredibly good at leather work and made me this awesome leather watch with very cool leather flowers on it. I didn't get a picture but I should. Gunnar got a huge Disney CARS sticker book and Jeff got a custom made gun holster. It is so cool! Jeff was really excited. He's already shown his brothers and one of them wants one too. It was molded to his gun so it is a one of a kind for sure.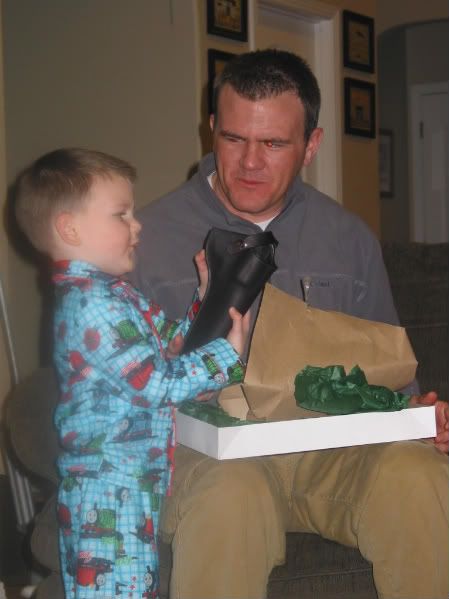 After the fun, we headed home to get ready for Santa. Christmas this year was so fun with Gunnar. Three is the best age for this kind of thing. Everything was so magical and real. We watched Christmas movies on TV about every other night, read Christmas books, sang Christmas songs. Talked lots of Christmas. Gunnar was over the top excited to give Santa a cookie and the reindeer carrots. And Santa had to have chocolate milk. We still aren't sure where he got the chocolate part from. We didn't tell him that even though it was good.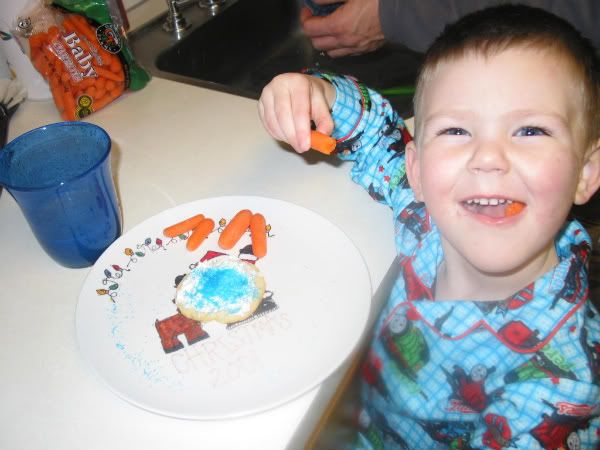 After Gunnar went to sleep at about 11pm because he was so excited, mommy and daddy elves got to wrapping presents. With the overly busy month, I didn't get around to doing it, even though I had all of the gifts months in advance. We needed to get to bed too because the next day was proving to be a busy one.