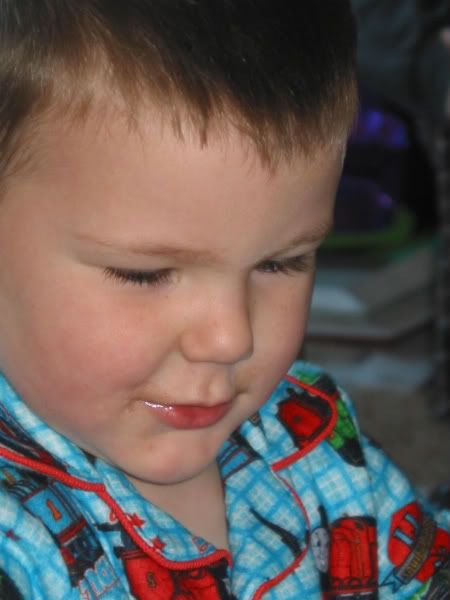 Christmas was crazy busy. We had a full nonstop schedule that we needed to maintain. Gunnar has always slept in like normal on Christmas morning. He woke up around 8am, wondered into our room passed the living room with presents and climbed in bed. With our crazy schedule, we needed to get up. We turned on the lights for the tree with presents underneath but all that he was drawn to was the plate for Santa. He was in awe that Santa ate the cookie, some of the carrots were gone and the milk was gone. We had to turn hit attention to everything else.


This year was the year of Thomas Train. We desperately needed to expand his tracks and he just loves the trains. Throughout the entire year, I would pick up a piece here and there. Quite often I would get lucky and find trains on clearance. That was exciting. Because I knew what I wanted to do at the beginning of the year, I was able to cash in on the deals.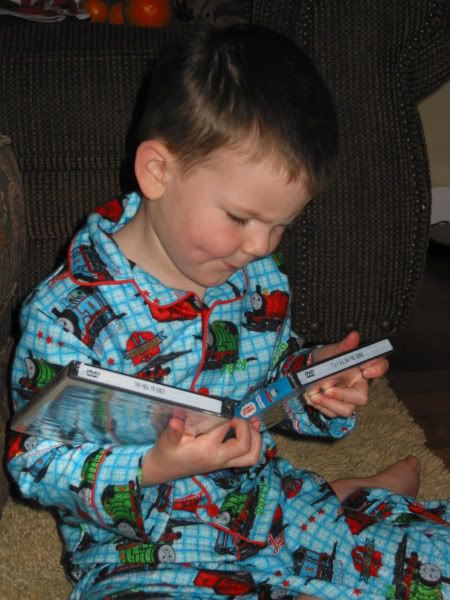 Costco also had different sets of 6 Thomas DVDs. I picked up a set and wrapped them individually. He loves these. Because of sales and coupons, I was able to pick up two big bath Mr. Potatoheads for $6 total. Gunnar got one and I gave the other one to a family that we did Christmas for this year. Oh ya, I wrote a blog post about this deal earlier.


Gunnar, quite frankly, is his dad through and through. He is one crazy boy to watch open presents. He finds the little opening to start the unwrapping. Then he has to get every inch of paper off before he even starts acknowledging what the gift is. Then he gets all excited and heavily studies the item. Then he would neatly place it in his pile. Once he was done opening all of his presents, he proceeded to categorize them. Train pile, track pile, movie pile, clothes pile, and then the odd gift pile. It was really interesting to watch and quite funny.


Jeff and I didn't do any gifts at all except for this one game that I bought. I played this in Sacramento with my dad and Brent/Noelle last year and had tons of fun. Anyway, days before Thanksgiving, we took our car in for some much needed repairs and let's just say they probably cost more than your entire Christmas total. So, that was our Christmas present and we are happy that we had it done. If we didn't, the repairs would have costs even more if something went entirely wrong.


My mom this year insisted that we open their presents at her house on Christmas Day or anytime after that. Usually we just do that on Christmas Eve because that is dedicated to my family and Christmas our other families but she insisted. We were the only ones that this greatly affected as far as time went but it was a just this year thing.


He got this super cute chair from Ikea from grandma and grandpa. It stays at their house and he loves it. Pretty funny to see a little kid lounge in a little chair.


He also got this fun remote control car from them that my mom and I had to track down. I think Jeff has more fun with it then Gunnar does sometimes. Kaika, our older dog, hates it. However Diesel finds it out entertaining and fun.


After presents at my parent's house, we had to rush home to get things ready for Jeff's family at 11:30am. We were opening presents and having a croissant sandwich lunch. We wanted to keep this informal and light. Jeff's younger brother and sister in law with my nephew, as well as Jeff's other younger brother and mom arrived.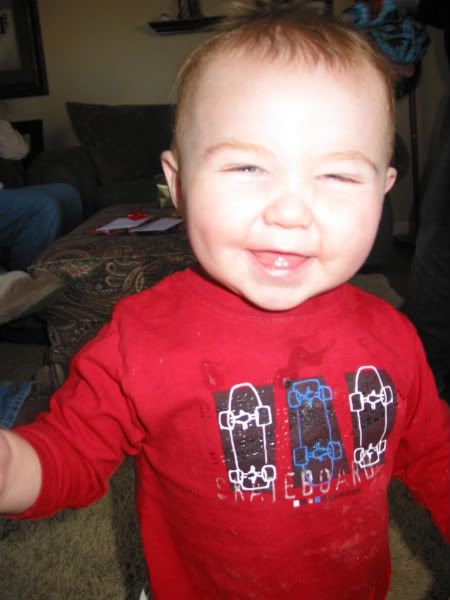 Bridger was so busy and on the move, I couldn't really get a good picture of him. He's a cutie. I did manage to get a good picture of Dustin and Stephanie. They have 3 other children between them, but they were at their other parent's house so we missed seeing them.


Right after they all left, around 3pm, we needed to head over to my great aunts house for more food and fun. We stayed for a couple of hours and then headed to the movies again with my family. There were so many of us. More than the day before. Heidi, Mindy, Gunnar and I headed to The Blind Side which we loved. It was so good! One of those feel good movies. The rest of the gang headed to Avatar. A movie I have absolutely no interest in seeing.

By the end of the day, we arrived home a little after 10pm with no breaks in the day. I was exhausted and quite frankly glad it was over. The next day, we lounged and took naps and played with toys. Traditionally the tree would be down and decorations would be packed but I was tired. That waited for another day.