Merry Christmas from our hula group. It has been 3 years that I have been in hula. Every year we have had a hula party with the keikis (kids) and all of our families. It is tons of fun with tons of food and good company. Every year we also dance for our families. A way to show off the new stuff we have learned throughout the year. The last two years it has been held at our instructor's boyfriend's resteraunt, Ono's in Boise. It has offered us lots of space for all of the families. It was fun to see cars drive by outside wondering if the resteraunt was open to only find all of us in the windows.


Every year Santa comes. If our kids are not in hula, we are asked to bring a stocking or gifts for them so that they don't feel left out. I just pulled from the gifts we had for Gunnar this year and gave him a couple Disney CARS characters and a Thomas Train, which I knew would send him over the top excited. Rillz has been santa the last two years and it is hilarious. Gunnar caught him changing in the backroom this year. He came out and said that he saw Rillz dressing up as Santa with a silly laugh. But when Santa walked out, that boy was mesmerized. He completely forgot that it was Rillz. It was the strangest thing. He kept asking when it was his turn and he couldn't take his eyes off of the scene just in case he missed his name. His name was finally called and he was in heaven.


All of us dancers also received generous gifts from the aunties. Every year we also draw names amongst us girls. This year I had Heidi. It was a lot of fun because I knew what she could use and liked. I got her a bag for her hula implements and a bag to hold her pu'ilis. Because they were in the Santa bag, we had to sit on his lap too. Funny because it was Rillz.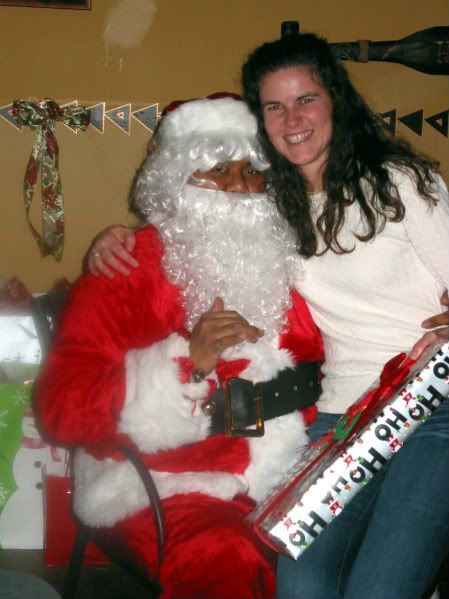 Here is to another fun year with our hula sisters.