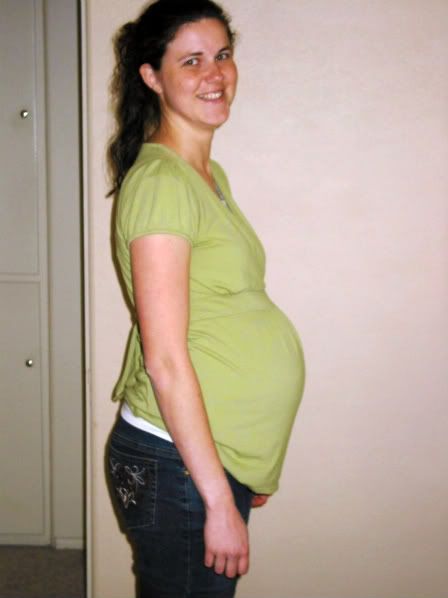 Can you believe it? I only have 6 more weeks to go. At this point, most pregnant people are ready to be done with being pregnant. For me, this entire thing has gone so fast and I now need to really get things together for this little guy. I am still waiting for the "nesting" thing to kick in because I have lots of projects that I want to wrap up and be done with around the house. I am slowly getting them done, but then new ones seem to make it on the list. Part of my problem at this point is motivation but I will get it soon. And they are fast easy fun projects too so not very difficult. I am 33 weeks and apparently Breckin is the size of a pineapple. For some reason I keep imagining an actual pineapple in my belly and it just seems painful because pineapples are not exactly a soft fruit on the outside. Anyway, I can feel this guy getting bigger by the week. Kind of strange to look down and my belly is lopsided or I can feel a hard body part. That part was always strange to me. Heidi and Mindy tease me that I look completely normal from the back then WHAM! I turn around and there is a baby there. I will take that anyday than looking pregnant everywhere. Height really is a great thing. My doctor appointments are now 2 weeks which makes things go by super fast. Before we know it, this baby will be with us. I feel super good. I can easily get around, bend down, twirl around, lift Gunnar, do hula.

Speaking of hula, we have a huge festival coming up this Saturday. We love going and have gone the last 2 years. We are excited. I will be dancing 2 of the 3 dances. Hula looks funny with a big pregnant girl but it is fun. We had to change out one of the outfit tops to accomodate Heidi and I. It was tight on me about 4-5 months and that top is no more for a while. The night before we have a performance for a retirement party at an LDS church building. We are using that as a dress rehearsal sort of thing so we will see how that goes.

Heidi should also find out what her baby is in the next 3 weeks or so. We are so excited and can't wait to see if we have a little niece or nephew. They are pretty excited as well. Mindy also realized last night that she is going to have 3 new nieces/nephews this year along. We are having our baby in July, Rillz's sister is having a baby in September (don't want to find out) and then Heidi in November. That is a lot of babies for them and they are so excited.

Better get ready for church. That is the update for now. I still need to do some MAJOR catching up on here. It goes way back to Easter and Gunnar's birthday. Pretty bad. That's one of the many items on my to do list.