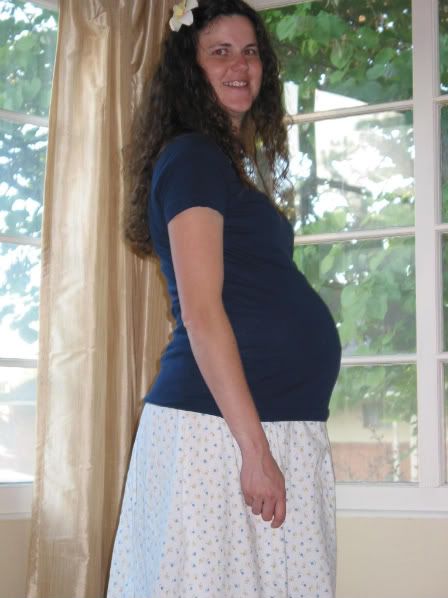 I only have 3 more weeks to go. Can you believe it. So many people comment on how it has all gone so fast for them and believe it or not, it has gone incredibly fast for me to. I really like being pregnant for the most part and will miss it when it goes but thankfully I will be blessed with a sweet little boy.

I have so much to do before he comes. I still need to get his room organized and get some of the baby stuff out. I asked Jeff to get the carseat from the attic last week. At least we have that out just in case he comes early and nothing else is prepared. I realized about a week ago that I should start getting my hospital bag put together. You just never know and it would be great to be prepared.

The nesting phase has yet to hit. I really believe this. I am getting some things done and it may appear that it has hit, but I think it hasn't. I have absolutely no energy and I have to force my self big time to get some of these things done. I remember with Gunnar I had huge amounts of energy and was weeding and washing windows about this time. Not for me yet anyway. I really hope it comes.

Jeff is always a huge help and has done lots to help me get projects done. In 3 weeks he will have 2 weeks off of work which should be fun. It will be nice to have him around. I can't wait to see what this baby looks like. I think that is one of the most exciting things about having a baby. What will they look like, what type of personality will they have. Gunnar has been fun. He is still pregnant himself but not mentioned as much as before. He is excited to have the baby or I should say he is excited about the idea of having a baby around. We will see what he really thinks when all that it does is cry, eat, sleep and pee/poop for a little while. I really think that he will be a great big brother. He has always loved babies.

Anyway, we are all excited and can't wait for the day to come to meet this little guy. We have one last busy 4th of July weekend before he comes and then the big day. I have been SO lucky with awesome weather. I can't believe it. The hottest it has gotten so far is the low 80's. It is usually in the 70's. So not normal but I don't mind. I really feel bad for Heidi. Being pregnant during the entire summer.