The first weekend in June is the Global Village Festival where we have a Hawaiian booth for our hula group. We have participated someway for the last 2 years and it is something that we always look forward to and have fun at. This year was no exception. The weather was absolutely perfect and we had a lot of people come by our booth. As part of the experience, we perform a half hour dance show. Always fun with a lot of costume changes. Now who said that I have a nice little belly? This costume will argue otherwise:


Mindy, Heidi and I were laughing so hard as we took these. I am so glad that we did. Camden and Breckin will have a seriously funny memory in their baby books. And who forgot to tell me that I looked so bad in this outfit. You can also see my half in, half out belly button. It actually forms a beak looking thing. So weird.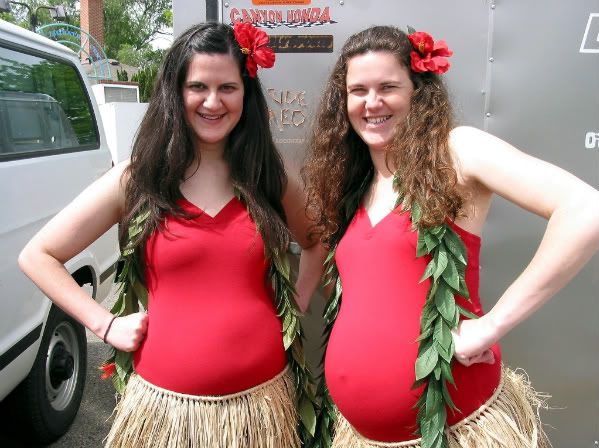 This is always the first dance that we do. A very haole (white person) hawaiian song with the outfit that most people expect. It gets people's attention. Anyway, Tasha always says something about how it is something that you would expect a hula dancer to look like...yeah, I don't think they expected an 8 month pregnant person in a hula skirt. Not their idea of hula dancer.


Ren, Rillz and Jeff said it looked quite humorous from their vantage point. Seriously something funny to laugh about.


Thankfully, the keikis (kids) danced between us and hopefully made everyone forget about the pregnant person. They are so adorable and their costumes are so cute!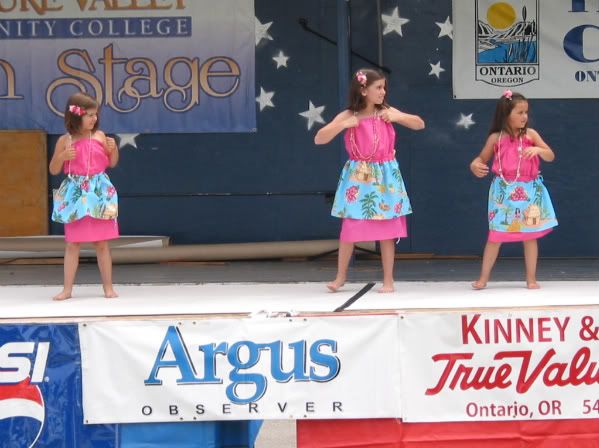 I chose not to dance one of the dances with the implements. I seriously did not want to overdo it and I am glad that I stayed out of this one. It is fast, you have to get up and down and by the end of the day I was hurting. Heidi and Mindy danced it and did an awesome job. They have been partners from the beginning of learning this about a year ago and do well together. I really like this dance but it wasn't going to happen this time around.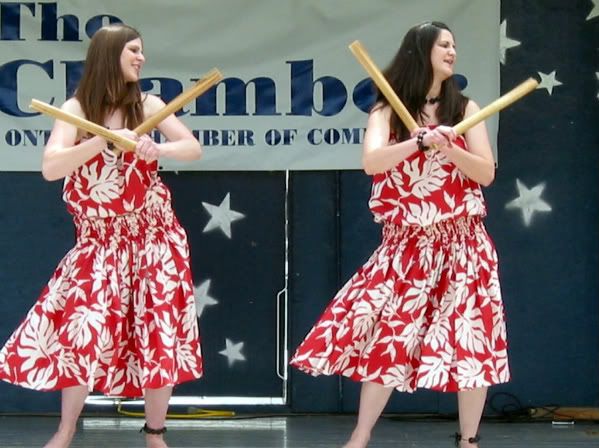 I did dance the last song and Heidi and I had to change the costume a little, which worked out well. We just could not fit into the super fitted top. My last time of wearing it was about 4-5 months and then no more. Wasn't happening. One of the aunties made us these awesome REAL leis and hairpieces. I have mine in the freezer, preserved for future use. I loved the real, green hair things. They looked awesome. It is funny that Kristin and I are standing next to each other here because we had to switch skirts. Mine was tight with the belly and hers was always too big. It worked out well.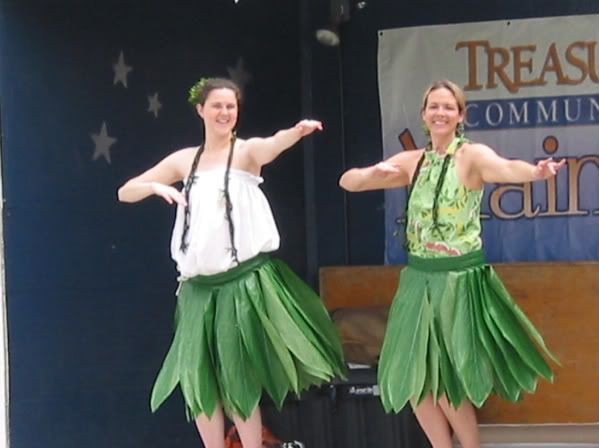 I love my sisters so much and this is something that brings us together at least once a week. we have so much fun together. I love them so much. I just love this picture of all of us and to know that there are two little babies there too makes it fun. Also crazy how we all look different but the same.


Heidi had a silly picture on her blog of Mindy. Well guess what....I have one too. What is up with that. She is such a silly girl.


We had such a great experience, raised tons of money and all worked really hard. I went home and hurt so bad. From my waist down just killed. I was worried that I wouldn't be able to tolerate all of church the next day, I hurt so bad. Thankfully it didn't last long and I have tried to take things easy ever since. The experience was all worth it though. The festival is always fun.