So I was definately complaining in that last post big time. Wowzers, but that is how I felt that day for sure. I feel rather well. I helped clean a little of my mom's house this weekend and then everyone headed over there to roast hotdogs and smores on the campfire. The weather was awesome and we had a lot of fun. We always have tons of fun when we get together and I love that.

Last night, we headed to downtown Boise to watch a friend finish a half triathlon. It was awesome and intense and inspiring and apparently exhausting for me because my hips and rear hurt so bad this morning when I woke up. I feel better right now but man was I sore from the walking apparently. And the walking was so enjoyable and doable. Anyway, if you ever have a chance to watch on of these types of races, you should. If was awesome and fun to be down there with all of the excitement. Apparently the swim is the most intense and amazing thing to watch but there was no way I was going to walk up a mile dirt trail to see it.

I have a couple more projects to work on if I feel like it. All of my sewing projects are pretty much done. I sewed 3 nursing covers. One for me and 2 for Heidi. They were super easy and really, really cute. I used boning for the first time so I learned something new there. It has really been fun to find tutorials online for sewing because I didn't do it before. Now I am learning so many different things and having fun doing it. Heidi takes Gunnar to work with her twice a week for the full day preschool. That has been so helpful and I really appreciate her for it. Gunnar loves going and the break is great.

I am 4 weeks away from meeting Breckin and I really want to get somewhat caught up on here. So I better get writing about our fun trip to Bend Oregon. Jeff had a conference there so we figured why not...let's all go and make it a vacation. The reimbursement for Jeff's meals along pretty much covered our entire family, the lodging was paid for, and the gas is reimbursed and I had a good friend/coworker that moved there that I was excited to see again. We went in the middle of May and really lucked out because the weather was fantastic.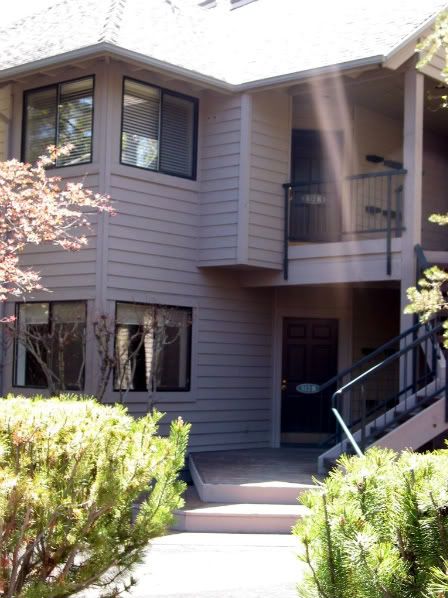 The place that we stayed was called Mt. Bachelor Village Resort. It was a multiuse place with houses, condos, 1-2 room places and then these 1 room hotel type rooms. Our room is the front bottom one with the big windows. You head down the walkway to the right and there was a unit with the full on kitchen. living... it was pretty fun. Our unit had the normal hotel feel but it had this gigantic window seat that was perfect for Gunnar to sleep on every night.


We pulled up and immediately saw these. Our room is directly to the left of these pretty trees. I just loved it and Gunnar and I had to explore that area. Jeff walked to the conference rooms everyday while Gunnar and I explored Bend.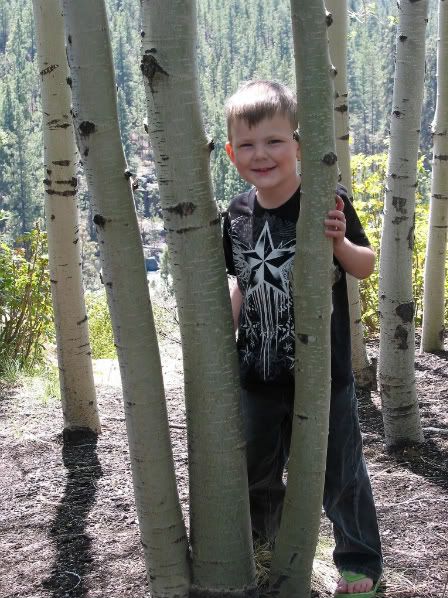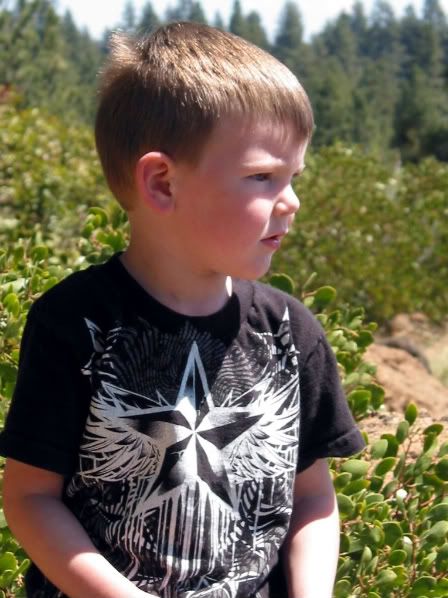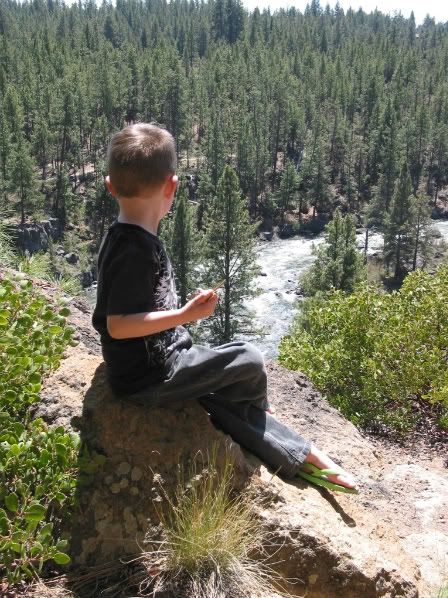 Jeff would go running every day. He went running up this trail on both sides of this river. You can sort of see pieces of it, if you know what you are looking for.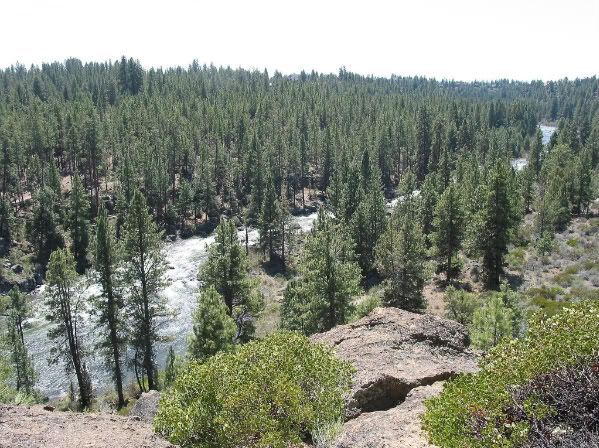 The first day, Patty picked Gunnar and I up for lunch and fun at the park. I was so excited to see her and get caught up. We also worked with her daughter in law so Patty brought Bodie with her who is 6 months younger with Gunnar. Boy was it an adventure to take two 3 and 4 year olds to a resteraunt where they were nothing but energy. We had some good laughs over that. I love how little kids just easily play with each other. They both had tons of fun at this awesome park and played like old buddies.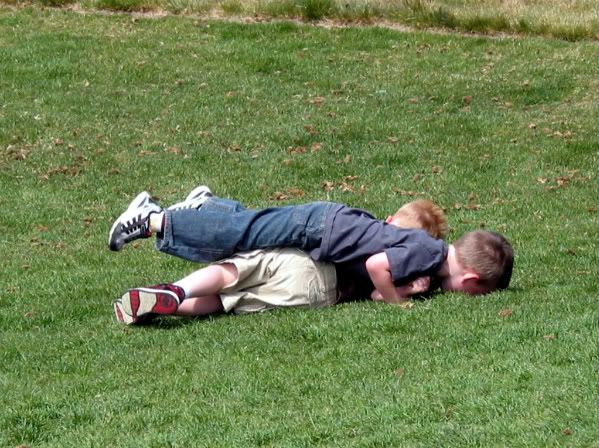 The park was so much fun, Gunnar and I had to take Jeff there that night. I decided to give the dinosaur a try.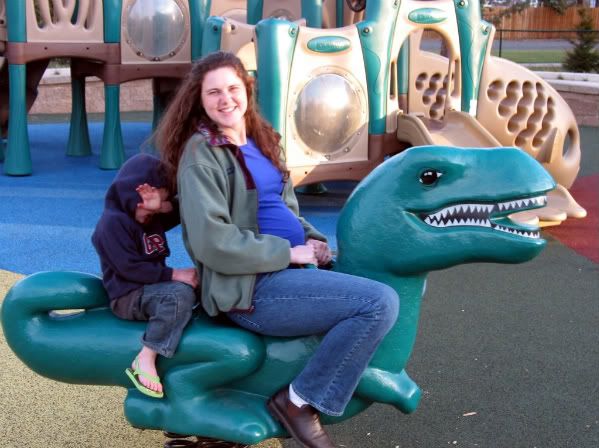 One of the days, Gunnar and I went thrift store shopping. I was in search of a couple of things. I ended up buying jammie pants because I forgot them at home and a great long sleeve maternity shirt. We also found a Boppy with removable cover for $2 for Heidi. I was so excited about that. We also hit up the Habitat for Humanity ReStore. The place was awesome. It was huge with tons of selection. I was after the outdoor lighting, specifically a post lamp. I found one and it was $3.75! I was stoked and so excited. It had been there a while so it was eventually 75% off. It is brass but I just need to take it apart and spray paint it black. I really hope it works out and looks good. I also found a small black light for the house that I need to respray paint for $15. They had so many awesome chandeliers for cheap. I wish that I had a spot for one. Our stores here have crappy selection and rarely negotiate on their prices even if it had been there for a long time. I have a story about that, that I should write about one day. Anyway, I was so thrilled with my finds and hauled them home.

One night we ate at a burger place downtown and visited Drake Park then started walking up and down the streets of an old historic neighborhood. The houses were awesome and some had historical plaques out front. We started reading one and it was about Amelia Earhart and how she lived in that house with her husband. We had just watched the movie Amelia weeks before that, so we found that interesting. Anyway, we started taking pictures of houses that we might want to paint ours after. This was the winner by far.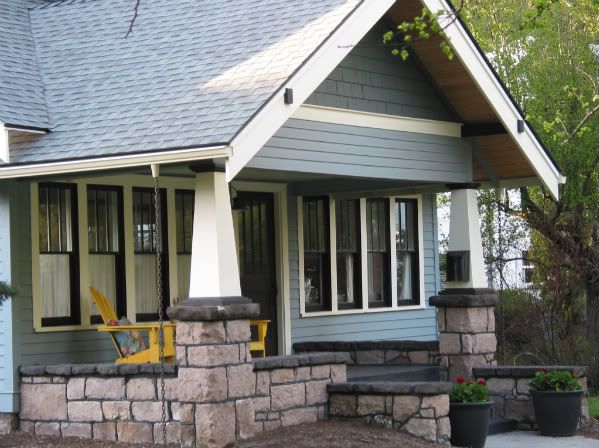 We are in love with the 2 shades of blue and I really love the trimmed out black windows. Our house is actually already blue like this but needs a new paint job. I had already considered painting a darker blue in much the same way as this one and our windows are already painted out in white but the black was awesome and different and totally doable right now if i wanted to. We also loved the painted black porch which we had been trying to figure out what to do with our unpainted one. I couldn't stop thinking about it and drove by the next day. I even left a note to the homeowners asking what colors they used but they never replied or were never home. Bummer. But this is what we want our house to look like.


The last night there, we bought a pizza, ate it in Drake Park and just hung out. It was pretty fun people watching because they were every where. As we were walking to the pizza place we saw two different homeless people with homeless pet cats on leashes. That was totally new to me. Always the dogs but never cats. I was quite amused. Bend is quite the town. Definately a place to visit, I am not sure about living. It is quite expensive to live, the unemployment rate is crazy high, dogs probably almost outnumber people, everyone wears workout clothes for some reason and seems to never have a job to go to. i guess a lot of people live there but commute to places like LA or Vegas to work. They want it to be like a Sun Valley Idaho some day. Gunnar and I drove past some insanely huge houses one day. More like an entire mini community of them near the college there. Bend is a really pretty place and I am so glad that we went and got to experience it. We had such a fun time as a family. So much that Gunnar kept saying that we were heading back to our new house every time we went back to our room. I love 4 year olds.