Last week I wanted to check back posts of how many garden grew in the past two years. I wanted to know when I started to get vegetables on my plants. And then it occurred to me that I really needed to take pictures and document this year so I could do the same next year. Monday I went out and took the pictures. We planted our garden about a month or so ago and I have been so excited with its progress. We've had a really mild start to summer but when the hotter days started creeping in, the plants just exploded with growth. These pictures were taken 4 days ago and everything has already gotten bigger.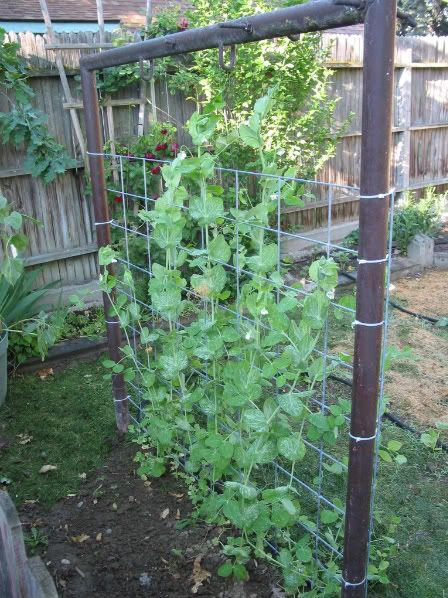 My peas have loved the cooler weather. That is what they grow best in and I think I planted them earlier than I have in the past so this is the best we have ever had. We should have peas soon with all the little blossoms that I see.


We planted to different kinds of squash, the yellow crooked neck (my favorite) and a new variety called One Ball from free seeds that my mom and I picked up at a flower and garden show. It should be interesting.

Ignore all of the grassy weeds. We got a load of manure from an animal auction place in town. I thought that we would be getting steer manure and the people headed to the horse corrals. I knew better but got it anyway. Now we are suffering the never ending task of weeding, hence the grass clippings to hopefully keep them at bay. You always want steer manure because the cows are able to digest it better killing the seeds. Horses don't and so the seeds can easily germinate like you see here.


We also planted zucchini which is doing well and already has a few flowers. I have a feeling that we are going to be overrun with all of our squash but that is okay. It is fun to give it away to others that may not have a garden and want free produce.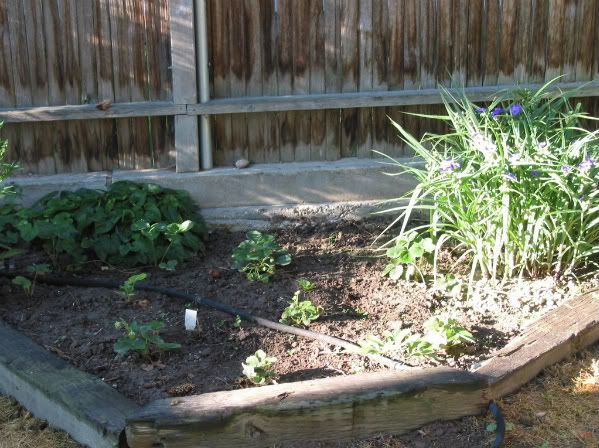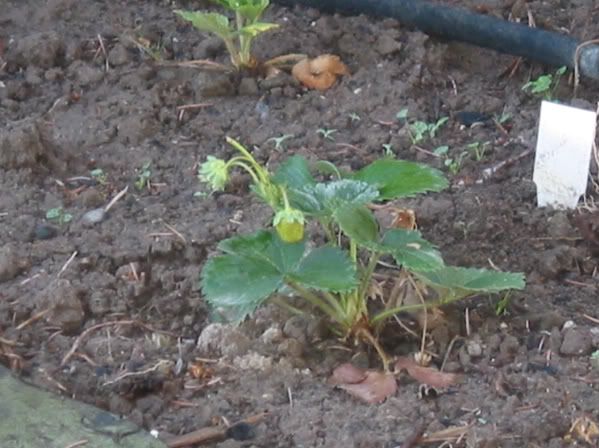 We also planted strawberries which I am really excited about. We have a great spot for our patch. We are just waiting for them to grow bigger. We already got a nice red strawberry for the season but a squirrel or bird got to it before I could. I need to devise a plan. Next year I expect a yummy harvest.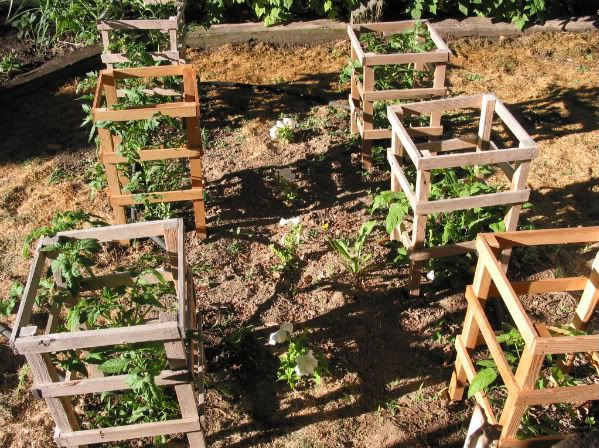 Our tomatoes are doing so well. I primarily planted Super Fantastic which is my very favorite medium tomato. I planted them my first year of gardening and they did so well. I also planted Roma and one grape tomato. Jeff will love munching on those. Because my plants are doing so well, I am afraid that I am going to have a huge harvest and a big canning season. Mindy wanted to make salsa this year and her plants aren't doing so well, so she may have to come over and we do it together. We'll see.


On the other trellis we planted cucumbers. I don't know what their problem is but they are off to an incredibly slow start. I see blossoms but the plants are small. It will be interesting to see what happens with these.


In the very back we have our pumpkins that like to sprawl and scale the fence. We planted the jack o lantern kind as well as the itty bitty ones. My mom asked why we do it in such a small space when they have a ward garden just a couple of houses down from her that we can get pumpkins from. I told her that Gunnar just loves it. He talks to the plants and checks on them all of the time. We just have to plant them. Breckin I am sure will get just as excited when he gets older too.


On the south side of the garden, we have our raspberries. They are in their second year and happy as can be. They have gotten so big and I can already see tons of little raspberries forming. Hopefully it is more than about 5 here and there like last year. We'll have lots, I can already tell. They are the Canby variety and thornless. Love that! Mindy told me one time that she would never plant them because she remembers picking the things in thorns growing up. I love them and love them more because they are thornless. I also love them because raspberries are so stinkin spendy in the store I don't buy them but would love to have them around.

So that is my garden this year. I can't wait to see what we get from it. It is already off to a great start. Far better than last year. Last year was by far a neglected year.