This last Saturday we had Heidi's baby shower. Mindy and I were so excited about the theme. We decided to have a baseball theme for a girl. Why you may think. Heidi is naming baby Camden after a baseball park. She was slightly obsessed in high school and really got into watching baseball because a few of her friends played the sport. She really loves Cal Ripkin and he played for the Orioles at Camden Fields. You get the idea. So we thought the theme was really fitting. The colors were pink, red, white and black.Mindy did an awesome job on the banners and sign.


The food went along with the theme. Mindy and I first thought of hot dogs but then we didn't want to be in charge of cooking them, so then we came up with a nacho bar, lil smokies, peanuts and homemade gourmet popcorn as the party favor. We were so pleased with ourselves. We loved that all of it was kept warm in crockpots. So easy and yummy.


We are not game people at all. So we had the guests guess how many chocolate peanut butter eye ball candies were in a jar. She kept the candy and the guests got another gift. The other was measuring out enough yarn to get the closest to how big around she was. We were pretty sure that our cousin was the closest...


she totally lost! We had another guest guess it right on. She string was exact, tip to tip. It was pretty crazy.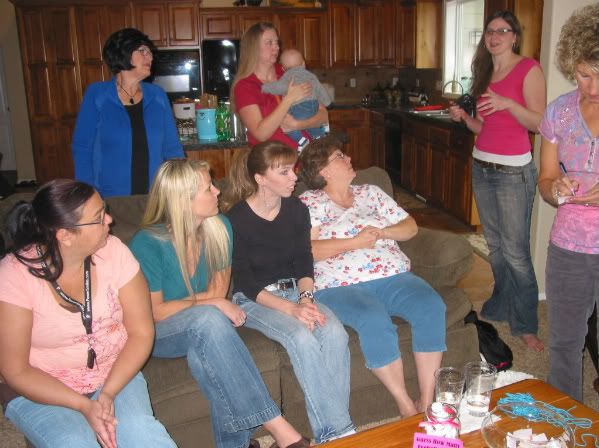 Heidi got a lot of pretty cute things and many practical things that she needed.


Mindy made this super cute blanket. I love it and I love the saying. We also couldn't let Brecken off with just a nap during the party. We had to test out the cute hat that she got.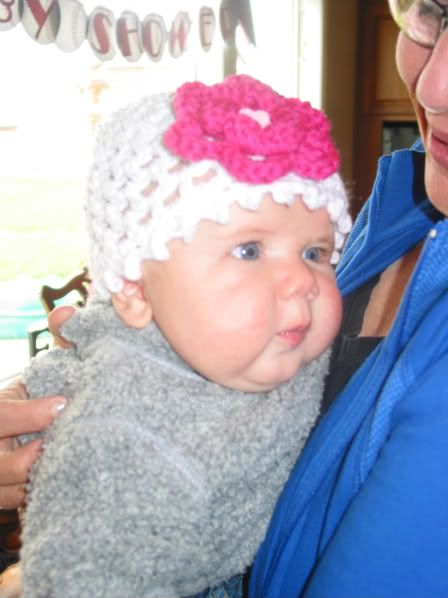 I am SO excited for baby Camden to arrive. The excitement is getting unbearable the closer it gets. She has about 20 days left as of today. She knows that she will most likely be induced the week before so we have about 2 week or less before she comes. So weird to think that Brecken came 10 days early so Heidi could potentially have around ten days left. That is not that far away at all.