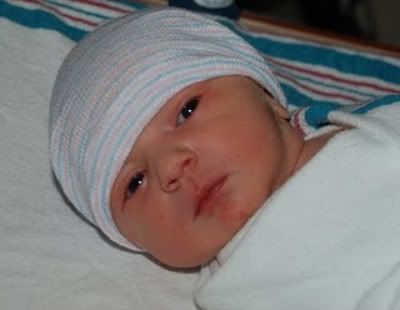 She's here!! My sister, Heidi, had her baby yesterday morning. All of us could not be more excited. She is so cute and weighed in at a tiny 5lbs 13oz and 19 inches long. I think everyone was a little surprised by that. The majority of us thought she would be about 8lbs. Not little Camden. Go pick up a 5 lbs bag of flour and you'll realize that she is light.

You will have to read more on her blog. She headed into her normal doctor's appointment on Wednesday to find out that she was already dialated to a 5. Crazy! Her appointment was in the afternoon too. They told her to head over to L&D because she was having a baby. The next morning Heidi had her. Camden arrived about 2.5 weeks early.


Gunnar, Brecken and I headed over to see her yesterday while Jeff was at work. Gunnar was wildly obsessed with her. He loved how smooth her skin was and kept running his fingers along her little cheeks. He was also obsessed with her dark hair. He still comments on it.


Gunnar will make a great bigger cousin. He has been in love with this little girl for a long time now.


Brecken is a silly boy. He has no idea what is going on. He is a boulder compared to Camden. He's HUGE. They are 3 months and 4 weeks apart. They will be buds. I just know it. Heidi had Brecken and we just plopped her down to realize that his arm was around her. So stinkin' cute!
We are so happy for them. We hope to visit again soon. Unfortunately last night we got hit hard with the cold bug. We won't be heading over there until we are all better. We better recover quickly so we can see her cute little self again.