Christmas Eve is a big deal on my side of the family and always has so that is where we are every year. It is also a tradition to go to a movie than enjoy a breakfast dinner at my parent's. This year we went to Tangled and we all LOVED it including the guys in the family. All of the babies were also really good. We intentionally sat at the very top just because of them. Brecken sat with my dad and had a great nap. Afterwards we headed to Red Robin for lunch where he was also pretty good. Noelle was our server which was pretty fun.


We headed back to my parent's and before we knew it, we had to get making our breakfast dinner. My mom failed to tell us when relatives were going to be over so Heidi, Mindy and I were running around crazy getting it all together. It was of course yummy and great to spend time with family.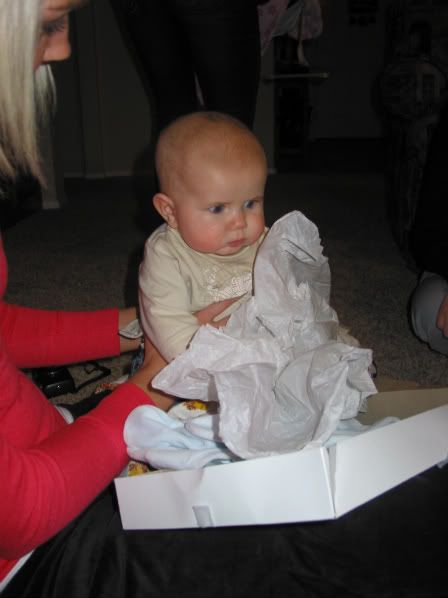 Presents are always fun. Gunnar was so excited. He opened up these fun puppets first from my parent's and just about lost it with excitement. Oh wait, him and Brecken opened up their jammies first and put them on. We went around taking turns.


Gunnar got a drum seat from my dad. He got a professional drum set for his 2nd Christmas when he was 18 months old. That was just insanity on my dad's party. Now we finally got the stool to go with it. Gunnar is now getting more into playing drums.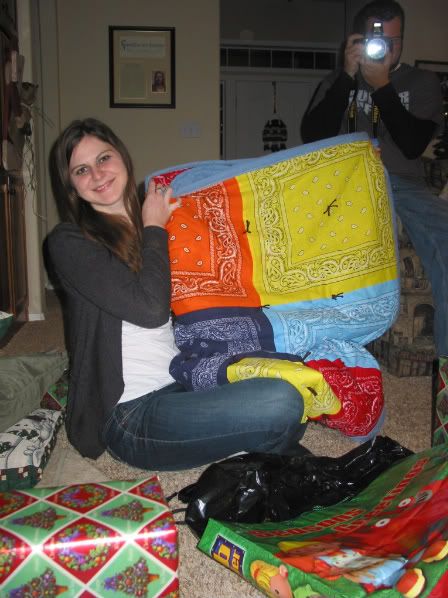 This year we had Mindy and Rillz and they had us. They gave us food storage organizers and buckets that Rillz gets from work. We all had to laugh about the buckets because they are like gold. It can be hard or spendy to find good food storage buckets. These ones even have the lids with rubber seals in them. We gave them a picnic blanket that I made using bandannas and a flat sheet for the back. I made one for Ren and Heidi last year. It is always useful to have something like this around or to keep in your car.


Towards the end of the night, Gunnar was looking out the window and spotted one of those radio type towers. He said it was Rudolph and instantly started going crazy. He was moving so fast to get out of there and home. He put his shoes on but on the wrong feet. My dad grabbed him to help him fix them and he FLIPPED out! He started crying insanely and was freaking out. We hurriedly packed our million things to get home. Jeff carried him to bed and Gunnar gave me orders to put cookies and carrots on the plate with chocolate milk and went to bed. He didn't even want to do it. He was out pretty quickly. I had a couple of things to wrap and we were in bed ourselves. Gunnar had us laughing with the Rudolph nose. He made that up all on his own.