Jeff ran the Zeitgeist half marathon this year again at the beginning of November. He never practiced the entire thing this year or ran as much as he did before to prepare. Again he was ready to do it and the rest of us were ready to kill time. I was thinking ahead and we brought Gunnar's bike and the stroller and the dog...it felt like the list of things went on and on. Jeff was bummed because I told him that I was not going to meet him half way. There was no way I was going to load everyone and everything up and then unload again.


The thing is you get there early so you can stretch and walk around. These things really are interesting people watching. The three of us had to kill tons of time so we walked around this big sidewalk loop. Gunnar had a blast riding his bike and running in the field. My ultimate goal was to get this kid tired. Brecken surprisingly took his nap during the entire thing in the stroller. Diesel was just super happy to be out.


I knew what Jeff's time was last year so I knew about when he would be coming in. We waited and waited. Then Gunnar got a little bored. I didn't see Jeff coming down the hill so we went up the sidewalk just a little. All of a sudden I hear Kristi! What?!! I totally missed it. I was so ticked. So we don't have a coming into the finish line picture. I discovered it is not easy keeping an eye out for a runner, entertaining a 4 year old, keeping a baby quiet, and corraling a dog.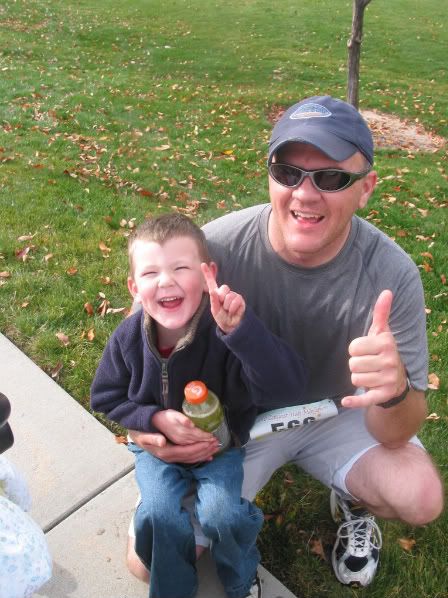 Gunnar kept telling Jeff that he won the race. It was pretty cute. The weather was awesome. It sprinkled barely for a brief moment but other than that we could not have asked for better weather. It is always fun to watch Jeff complete these things.