Jeff is always up for an adventure. Ummmm, not always me. I have really become a home body since kids. Anyway, Jeff got the bike trailer out of the attic and we were itching to try our new walky dog for Diesel.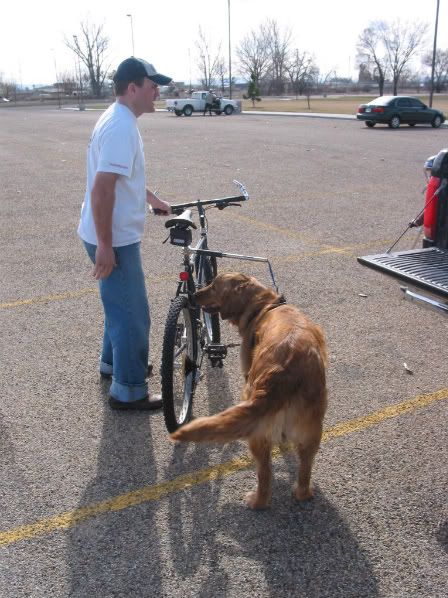 You hook it to your bike seat so you can walk (more like run) your dog hands free. We headed to the Caldwell Greenbelt for their big loop there. I swear you would have thought we were packing for a weekend getaway. It seemed to take forever and the truck was full inside out of family members and bike paraphernalia.


The original plan was for Gunnar to ride his scooter. He didn't want to ride his bike. I knew this would not last long and tried to convince him to ride in the bike trailer. A few yards into the path, Gunnar didn't last and Jeff had to take the scooter back. I knew he couldn't make it. I barely made it to the end. He was thrown in the trailer with Brecken. Now this was Brecken's first ride. You would have thought this boy was being catapulted to the moon and back. He was SO excited. He squealed and talked the entire ride. We will for sure go on more bike rides just to see his excitement.


Diesel did great on his first run with the walky dog. With more practice he will be a pro. He was one tired puppy and we had two tired boys. I am not sure which one is more important. Oh ya, and I was really tired too and my bum hurt the next day.