Jeff had the opportunity to go to Bend Oregon again this year. This time around we had Brecken and I wasn't pregnant. Bend is a fun place. Lots of outdoorsy things to do. Not super small but not really big either. It takes about 5 hours of driving through the ugly desert to get there. Brecken and Gunnar were so great on the drive. We hardly heard both of them. Brecken took a few great naps to pass his time. Jeff obeys rules, which include driving rules. We all should but I don't very well. We were in the middle of nowhere going sooooo slow. It was driving me bonkers. At one point we got passed by 2 semi's and then this RV pulling a trailer with a truck on it and a 4-wheeler. I was dying. For some reason I always feel bad inside for semi's because they drive slower than the rest of us most times. Not this time.


When we first got there, we headed to a thrift store. Call us weird but Jeff was determined to find those lightweight outdoorsy type pants and Bend would be a place full of outdoorsy people. He did find a pair which he was excited about. I also found a pair of Gap jeans that I LOVE! I think I am wearing them right now in fact. Gap is my brand. I know they generally fit well. I can buy from Ebay and know that my odds of them fitting are pretty high. Usually the length is my issue but if I order longs, I am good to go. We ended up eating at Diary Queen in the thrift store parking lot. We were starving and tired and in no mood to drive around for food.


I was so excited for the room and we had Gunnar excited about his window seat bed but discovered that we were upstairs from our room last year this time and the room was different. Bummer. It was fancier for us though. Not like it makes a difference. We brought Brecken's little bed. I love this thing but I was worried that he would fall out because he started to roll over in his sleep and pull up a little on things.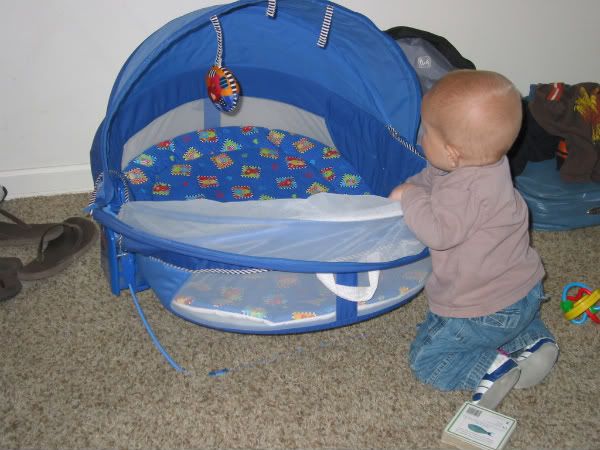 The first night, both boys were exhausted. I love how Brecken fell asleep where he was playing. He has never done that.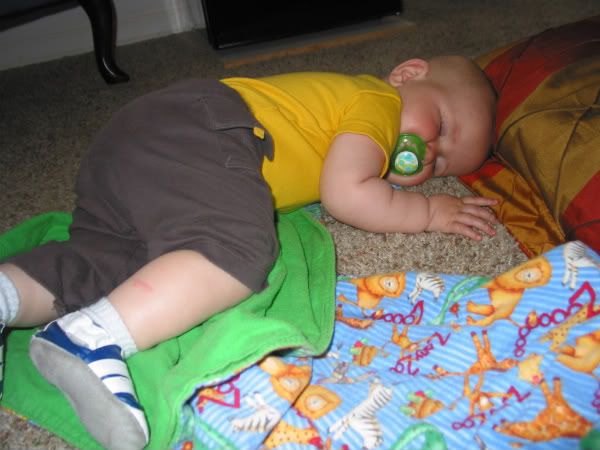 I was hoping to connect up with my friend Patty while we were there but she got a job 2 weeks prior. I was bummed but we have next time. I just love her. To fill our time as Jeff went to work everyday, we went to parks or thrift stores or explored more. This town has sooooo many FUN parks. They are every where. Thankfully the weather was awesome again and we could play.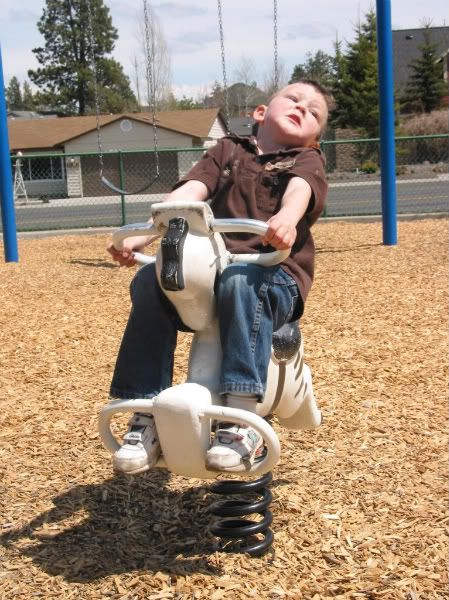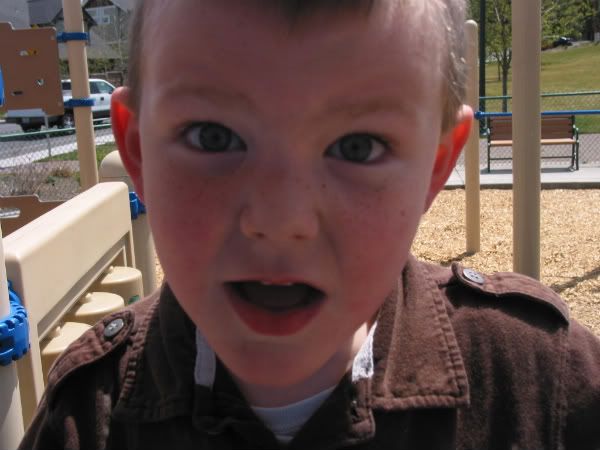 Gunnar is becoming such a nut. I see pictures like this and realize that he is such a big boy. Definately not my little boy. He makes me laugh. Look at the freckles that come with the sun. I love it.


Brecken started his crawling attempts on this trip. He didn't really go anywhere but he sure was testing how far he could reach on his hands and knees.
Part of the resort prertty much sits on the edge of a drop off. It is so pretty and we could see people running along the trails down below near the river.


I took a picture of the three of us and as I was looking in the viewfinder I was confused as to why Brecken would not close his mouth and smile. It was so weird. I took the picture and turned him around and found a rock in his mouth. Then retook the picture with it out. Much better.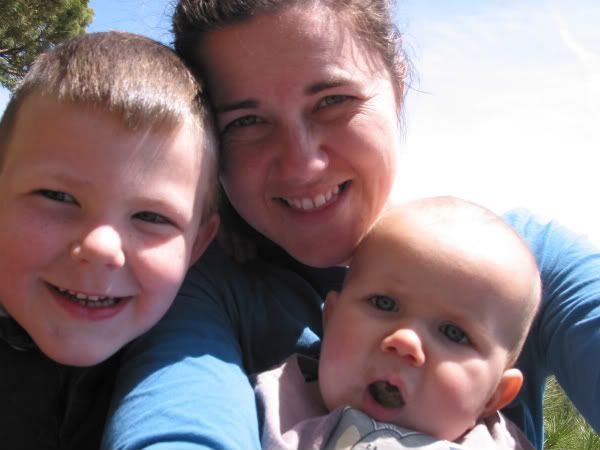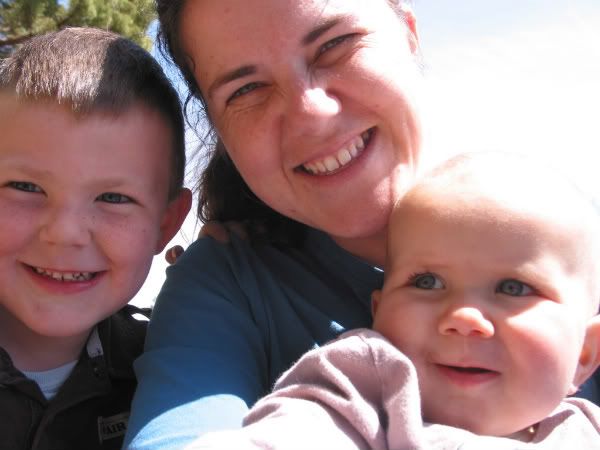 We went to the park on the last day and wondered along the river. It is really wide and slow going so lots of kayakers and canoers and general water people were out.


We saw this man going down on a surfboard thingy. Days earlier we saw a girl doing it. It looks pretty fun actually. As the guy slowly went by, we talked to him a little about the beautiful day. He was so red from being outside.


Gunnar took hold of the camera. He makes me laugh because he took a picture of my cell phone on the bench nearby. Most of his pictures have heads partially missing too.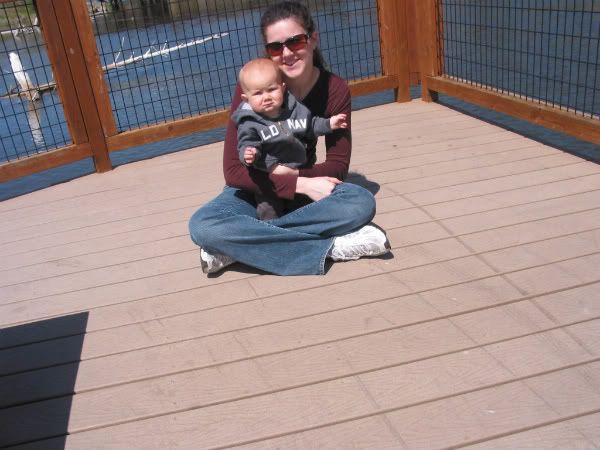 The boys loved being outside so much. I was thinking about why we were out so much. When you're home, there are so many other responsibilities and things keeping you from being outside (or other places) with no schedule at all. I really need to try to be more like that. Do you ever tell yourself while on vacation that you would love to live there. Then you come to your senses and realize it really wouldn't be like it would be on vacation because real life would kick in. I think I do everytime.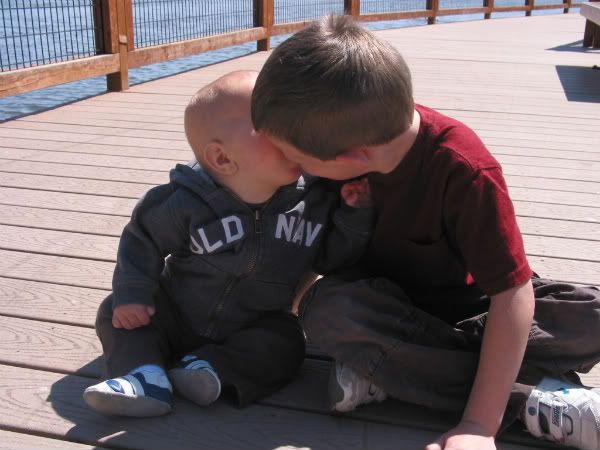 Gotta love those nasty wet kisses. Brecken sure loves giving them though.
Where else did we eat while we were there...we went to Mondo's again. It is such a hippy pizza place downtown. I love it. Their pizza is good and the place was so busy for the middle of the week. We also ate at a Hawaiian place. We noticed two of them in town which surprised me. The place was also really busy for a Thursday. The food was good but nothing spectacular. I guess I am spoiled for having it more than once a year here. I am so used to the yummy food here. I also thought it was spendy for what we got but then again anything would be if you can have it here instead.

We have a lot of fun in Bend and it provides a great relief from real life for a while. At about 5 hours away, it is pretty close to home. I really hope Jeff gets to go back again. This is literally one of the only conferences that specifically pertains to his job. I just realized we didn't get any pictures of Jeff. Next time right...